Genre: Christian Living, Religion and Spirituality
Paperback:

444 pages

Publisher:

Credo House Publishers; First edition (February 1, 2017)

Language:

English

ISBN-10:

1625860668

ISBN-13:

978-1625860668
Synopsis:
ABOUT TWO MINUTES! That's how long it takes to read each of these mealtime reflections.
A Spoonful of Grace
is a collection of 366 thought provoking, gratitude-building, supercharged daily graces. Each prayer is accompanied by a companion Bible verse and a conversation starter—impactful yet brief enough to hold the attention of hungry kids. As part of a well-balanced diet of conversations with God,
A Spoonful of Grace
:
- Sows the seeds of a thankful attitude
- Whets the appetite about the Bible and what's in it
- Nourishes the heart, mind, and soul
- Taken with food, constitutes a complete meal
Review:
I really enjoy this book. There are enough prayers to go through an entire year without repeating one, with an added section of special ones for holidays and birthdays. Each day also provides a scripture reading and "Grace Notes," which are quotations and ideas to continue a discussion.
One of the things I like about this book is that the scripture readings include selections from all 66 books of the Bible, even those which are sometimes ignored/neglected. While I no longer have small children in the home on a daily basis, this is something I will use whenever my grandchildren are visiting, and for any family get-togethers in the future.
**I received a copy of this book from Adams PR Group, with no expectation of a positive review. All thoughts and opinions are entirely my own.**
Rating: Five stars
Q&A with author/actor Annette Hubbell
​Author of "A Spoonful Of Grace"
Q: What inspired you to write your new book?
At a casual lunch with some friends, our host led us in a grace prayer before the meal, and the idea hit me like lightning. Writing a book was the furthest thing from my mind—and my abilities. I think that's why God started me out easily; to have given me a glimpse of the final product would have overwhelmed me and stopped me dead in my tracks.
I had grown up with the Catholic grace, but except for a general, spur of the moment grace, I had never heard any other formal, standardized grace. So when our host began his grace, the Lutheran Grace, I was amazed with this new piece of information. There must be others, I concluded. What if I were to collect them—from all over the world—and create a book out of it? I could even pair them with Scripture for added meaning. In effect, I would simply become a compiler, or so I thought. I sent out inquiries, asking everyone to share, eagerly awaiting the replies. What I got back surprised me. It seemed there were, in fact, only three types of graces ever said: The Catholic and Lutheran graces, and the ones made up every night. Even more surprising were the responses of those who never said grace but wished they did, and would if they had some structure.
I set about to write, but publishers soon informed me that there had to be an application. Back to the drawing board to add what came to be the "Grace Notes": side bars—much like what you see in a Study Bible—to add context, or set the stage for God's word. I needed a much bigger education to pull that off, so I studied hard, received a Certificate in Apologetics from Biola University, immersed myself in Bible studies, and traveled throughout the Holy Lands. After ten years of work, prayer and relying on God,
A Spoonful of Grace
is the result.
Q: What should parents know about this book?
A Spoonful of Grace
is a collection of 366 evening meal graces taken from all 66 books of the Bible. They are designed to provide meaningful exposure to prayer and the Bible at a most opportune time: the family evening meal. They are unique, too, because each one is inspired by its companion Bible verse(s), designed to be read in its entirety in about two minutes, and enhanced by a section called "Grace Notes." Using quotations and ideas to further illustrate the theme of the verse, these "Grace Notes" promote lively and meaningful conversation. Interestingly enough, I've had people—people who attend church often—tell me that saying grace, other than on spe­cial occasions, had never occurred to them. Each day's grace and devotional are meant to be read aloud by all family members, with friendly, approachable illustrations that are short enough to keep the attention of hungry kids.
Q: How do you envision this book being used by families?
A
Spoonful of Grace
is suitable for every family, wherever its members are in their individual faith journeys. Whether the parents are just beginning to integrate prayer and Scripture into their daily routine or already say grace together, this book sets the tone for family mealtimes-light-hearted, yet at the same time, full of meaning and purpose. The
Grace Notes
allow children to think about actions and their ability to make choices. I envision the children taking turns reading each day's grace, and the parents guiding the conversation around it.
This book, however, is not just for families. A seeker or new believer is given doses of theology in small pieces that might be more easily absorbed.
A Spoonful of Grace
is also great for grandparents and caregivers to have in the house, busy people who want to add more Bible reading into their lives, or people who would like to say grace with others but are uncertain how to start. Because Scripture is taken from easier-to-understand versions like The Message or the New International Version, adult students who are learning English as a second language would also benefit.
Q: Why do you believe it is important to create intentional family time in today's culture?
A Spoonful of Grace
is a response to diminished attention spans wrought by social media, and the expectation of instant gratification. When I tested
A Spoonful of Grace
with some families, one said "This consumed the entire conversation during dinner." Another family told me that their 15-year- old was appreciating his family more through simply spending more quality time together. My aim was to keep these graces and devotionals witty and to the point in order to capture a young person's interest quickly. I hope that the book will help turn mealtime into conversations about faith and values such as sharing, honesty, friendship, and honorable conduct.
About the author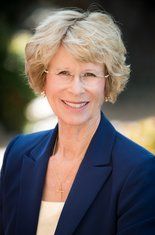 Annette Hubbell earned her undergraduate degree in Marketing from San Diego State University, her M.B.A. from Cal State University in San Marcos, and a Certificate in Christian Apologetics from Biola University. She has been featured in over 160 performances, and starred in the DVD, "Witness To Gettysburg" edited by 33-time Emmy Award winner Robert Gardner. She was awarded Presenter of the Year twice at the Civil War Round Table of San Diego, and is a member of the Daughters of the American Revolution (DAR). Hubbell lives in San Diego, California with her husband of 33 years, Monte. They have a daughter, Amy. She and her husband Scott live in Los Angeles, California. For more information, visit
www.AnnetteHubbell.com
.