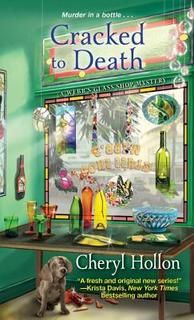 Cracked to Death (A Webb's Glass Shop Mystery)
Cozy Mystery
3rd in Series
Mass Market Paperback: 320 pages
Publisher: Kensington (June 28, 2016)
ISBN-13: 978-1617737640
Synopsis:
When a treasure hunt leads to deadly plunder, it's up to glass shop owner Savannah Webb and her trusty investigative posse to map out the true motives of a killer . . .
It's the dog days of summer in St. Petersburg, Florida, and Webb's Glass Shop proprietor Savannah Webb has an eco-friendly plan to help locals escape the heat–a recyclable bottle-crafting workshop taught by reticent store manager Amanda Blake. Turns out, the class is a bigger smash than expected, thanks in part to a pair of staggeringly old bottles brought in by snorkeler Martin Lane . . .
Linked to a storied pirate shipwreck, the relics definitely pique Savannah's interest. But intrigue turns to shock when Martin's lifeless body washes ashore the next morning, another glass artifact tucked in his dive bag. With cell phone records connecting Amanda to the drowning, Savannah must voyage through unchartered territory to exonerate her colleague and capture the twisted criminal behind Martin's death . . .
Review: One of the things I enjoy about this series is that with each book I learn more about stained glass and glass products. It's a fun way to learn about the topic without being overwhelmed with too much information at one time.

All of the characters work so well together and are very relatable. I love that Jacob is learning to deal with his anxiety issues--it's amazing to see his character change and grow throughout the series.

Of course, there is a murder mystery to be solved--and this time, Amanda is a suspect. We find out she was keeping secrets from the others, but is one of those secrets that she killed Martin? I think you'll be just as surprised as I was by the reveal of the murderer and motive
**I received a copy of this book in exchange for an honest review. All thoughts and opinions are entirely my own.**
About the author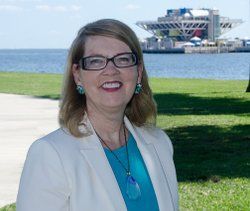 Cheryl Hollon
now writes full-time after she left an engineering career of designing and building military flight simulators in amazing countries such as England, Wales, Australia, Singapore, Taiwan, and India. Fulfilling the dream of a lifetime, she combines her love of writing with a passion for creating glass art. In the small glass studio behind her house in St. Petersburg, Florida, Cheryl and her husband design, create, and produce fused glass, stained glass, and painted glass artworks. Visit her online at
http://cherylhollon.com
, on
Facebook
or on Twitter
@CherylHollon
.