Genre: Women's Fiction
Paperback:

336 pages

Publisher:

MIRA (July 12, 2016)

Language:

English

ISBN-10:

0778318931

ISBN-13:

978-0778318934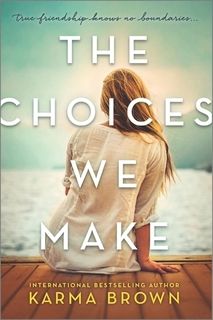 Synopsis:
Following her bestselling debut novel
Come Away with Me
, Karma Brown returns with an unforgettable story that explores the intricate dynamics between friends and mothers
Hannah and Kate became friends in the fifth grade, when Hannah hit a boy for looking up Kate's skirt with a mirror. While they've been close as sisters ever since, Hannah can't help but feel envious of the little family Kate and her husband, David, have created—complete with two perfect little girls.
She and Ben have been trying for years to have a baby, so when they receive the news that she will likely never get pregnant, Hannah's heartbreak is overwhelming. But just as they begin to tentatively explore the other options, it's Kate's turn to do the rescuing. Not only does she offer to be Hannah's surrogate, but Kate is willing to use her own eggs to do so.
Full of renewed hope, excitement and gratitude, these two families embark on an incredible journey toward parenthood…until a devastating tragedy puts everything these women have worked toward at risk of falling apart. Poignant and refreshingly honest,
The Choices We Make
is a powerful tale of two mothers, one incredible friendship and the risks we take to make our dreams come true.
Review: I didn't know if Karma Brown could top the emotional writing of Come Away With Me, but after reading the synopsis of this novel, I had a feeling she might have found a way. I was not disappointed. This one is a very different story, but it is no less emotional and realistic.
There are so many heart-wrenching scenes in this story that I would suggest keeping a box of tissues close at hand while reading. The themes of friendship and motherhood are wonderfully displayed from beginning to end--from the highs to the lows and everything in between. Knowing that portions of the story were based on the author's personal experiences makes it an even more amazing read.
Some of Hannah's actions after the tragedy mentioned in the synopsis of the book made me wonder if they weren't out of character for someone who had been friends with another woman for 25 yrs. She seemed just a little too cavalier about letting go of that friendship when I would have expected her to be torn apart by the decisions that needed to be made. Since that was my only complaint, it did not impact my rating at all.
**I received a copy of this book in exchange for an honest review. All thoughts and opinions are entirely my own.**
Rating: Five stars
KARMA BROWN is an award-winning journalist and freelance writer, who probably spends too much time on her laptop in coffee shops. When not writing, she can be found running with her husband, coloring (outside the lines) with her daughter, or baking yet another batch of banana muffins. Karma lives just outside Toronto with her family.