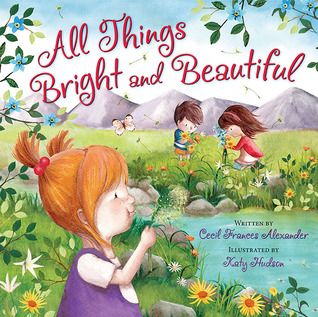 Category: juvenile fiction/Christian
Synopsis:
All things bright and beautiful,
All creatures great and small,
All things wise and wonderful,
The Lord God made them all.
First published by Cecil Frances Alexander in 1848, this favorite hymn has become a mainstay of churches and Sunday school classes everywhere. Here artist Katy Hudson brings new joy to the words with her fresh and bright watercolor style. Readers can join in the fun as they follow two little girls and their brother on a day filled with the discovery of
all things bright and beautiful.
Ages 4-7.
Amazon buy link:
All Things Bright and Beautiful
I am absolutely in LOVE with the illustrations in this book. The children are adorable, the colors are vibrant, and the animals are amazingly lifelike.

The text of the book is the lyrics to the song by the same title, which I remember singing as a child. Each page has only one or two lines of text, which makes it even easier to focus on the illustrations.

The combination of the text and illustrations provide a multitude of opportunities to discuss God's creations, and the wonder of them all. I also liked that the final page includes a cute little bunny along with a scripture about Creation.

**I received a copy of this book in exchange for an honest review. All thoughts and opinions are entirely my own**

Rating: Five stars
Katy Hudson was raised in Middlesbrough, England, and started her career as a small child drawing on freshly painted walls. Her parents quickly encouraged drawing with pencil and paper instead. The idea stuck, and after earning a degree in illustration, Katy is now a freelance illustrator. Katy works at a desk in a studio within Old London Library and likes to tap dance in her spare time.