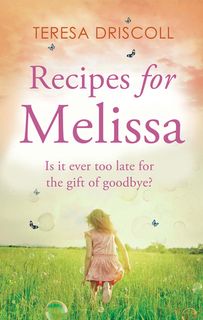 Publication date: 5th June 2015
Price (pback): £9.99 / $15.99
Price (eBook): £1.99 / $2.99
Synopsis: Is it ever too late for the gift of goodbye?
As I write now, you are eight years old – asleep in the bed next door in princess pyjamas, with a fairy costume discarded on the floor.
Twenty-Five. The age I had you. The age our story began. And the age, I hope, that will see you truly ready for the things that I need to say to you…
Melissa Dance was eight years old when her mother died. They never got to say goodbye.
Seventeen years later, Melissa is handed a journal. As she smooths open the pages and begins to read her mother's words, she is instantly transported back to her childhood.
But returning to her past is painful and memories of her mother's beautiful face are a cruel reminder to Melissa that she'll never see her again.
As Melissa slowly makes her way through the precious book, reading the snippets of advice and cooking the dishes from the recipes, she is also shocked to learn of her mother's secrets – secrets that if shared, could change Melissa's world forever.
My review: This is a beautiful story of the relationship between a mother and daughter. It is one I will recommend to every woman in my life. It's very well written, and we get a look not only at Melissa's life in the present day, but also at her mother's life in the past. I like that there are recipes included in the book, and found a few that I plan to try out for myself. In the journal entries written by Eleanor, you can feel the love she has for her husband and her daughter, and how difficult it is to know she will be leaving them. (I can't believe how many books I keep reading that involve breast cancer!)

**I received a copy of this book from

Bookouture and NetGalley in exchange for an honest review. All thoughts and opinions are entirely my own.**
My rating: Four stars
Melissa was walking on the beach with her mother. She was holding her hand and Melissa knew for certain that it was her mother – not only because she could feel the wedding ring on her finger as she gripped her hand, but because she knew deep inside from how completely happy and how utterly loved and safe she felt.
They were at first walking along the beach and then running and laughing and Melissa could feel the wind in her hair and she could hear the roar of the waves and taste the salt on her lips.
She was so happy. And that was actually the problem that no one would understand. They would think it odd – that she was some kind of freak – that she did not want to feel that.
But here was the truth: Melissa did not want to remember just how good all that felt. And the more often she had that dream the harder she had to work not to look up into her mother's face. Because Melissa knew that if she let herself do that in the night – to look up at her mother's beautiful face, smiling right at her – she would not be able to cope with the next morning. Or the next day. Or the next week.
And so she ran along the beach in the dream over and over and over. Do not look into her face, Melissa. Look at the sand.
For 15 years Teresa presented the BBC's nightly TV news programme Spotlight from Devon. She has worked as a reporter and columnist for a wide range of newspapers and is a popular short story writer for Women's Weekly and other leading titles.
She has tutored Writer Workshops supported by the Arts Council and away from the laptop is passionate about her family...and great coffee!