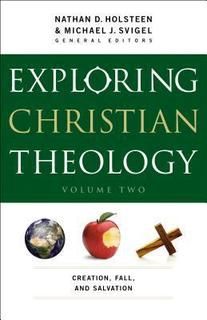 Synopsis:
Introduction to Christian Doctrine from Dallas Seminary Professors
This engaging and accessible systematic theology clearly explains essential spiritual truths for those new to doctrinal study or in need of a refresher. The authors use quick-paced introductions, overviews, reviews of the key tenets of orthodox evangelical doctrines, and more for an easy grasp of the subjects.
Led by general editors Nathan D. Holsteen and Michael J. Svigel, the writers are Douglas Blount and J. Scott Horrell, with contributors
J. Lanier Burns and Glenn R. Kreider. All are Dallas Seminary professors and theologians.
"Exploring Christian Theology" is useful for a preview or review of doctrine, discipleship, or personal reference. It can be used by ministry training programs, Bible colleges, or seminaries as an introduction to prepare students for more in-depth theological study. Now complete in three volumes.
Thoughts:
This is a very educational book, but it was a bit more in depth that I had been expecting. I'm going to have to actually put in some in-depth study time with this book and my Bible--one read through is nowhere near sufficient.
I particularly enjoy that the author shows how doctrine has evolved throughout history and details dangers of misuse of certain areas of doctrine.
I would recommend this to anyone who is interested in learning more about creation, fall and salvation.
**I was provided a copy of this book by Bethany House in exchange for an honest review. All thoughts and opinions are entirely my own.**
My rating: Four stars