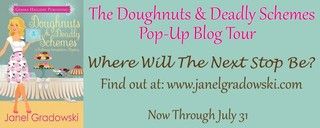 Publisher: Gemma Halliday Publishing
Publication date: 4th June 2015
Genre: Cozy Mystery (Culinary)
Synopsis:
From bestselling mystery author Janel Gradowski comes a deliciously deadly mystery...
Amy Ridley's best friend, Carla, is getting married, and Amy is delighted to be recruited as the head wedding planner—even if Carla's demands are less than conventional. Case in point: Carla insists on a tower of doughnuts in place of a wedding cake. But navigating the world of nuptials becomes the least of Amy's problems when the owner of a menswear shop is found dead, and Carla's fiancée is assigned to the case. With the honeymoon in jeopardy, Amy and Carla vow to help track down the killer...but they soon discover there are even more sinister happenings affecting the businesses in downtown Kellerton, Michigan. If Amy doesn't figure out who is behind the deadly schemes, the nearly newlywed detective may just be solving another murder—hers!
Thoughts: Amy's life is crazy enough when she realizes she has three weeks to plan her best friend's wedding. But then there is a murder, with Carla's fiancee working the case, which means Amy and Carla are also trying to help him solve it. After all, if the murderer isn't caught, it could cut into the honeymoon plans!
This is the second book I've read in this series (haven't read the first one yet), and I enjoyed this one even more than the previous one, Chicken Soup and Homicide. All the residents of Kellerton are back, and we get to know them just a little better with each book.
The story is well written, the characters well defined and growing with each book, and the plot is designed to keep you guessing "whodunit."
Recipes are included, and I plan to try some of them out in the near future.
My rating: Four stars


About the author:
Janel Gradowski lives in a land that looks like a cold weather fashion accessory, the mitten-shaped state of Michigan. She is a wife and mom to two kids and one Golden Retriever. Her journey to becoming an author is littered with odd jobs like renting apartments to college students and programming commercials for an AM radio station. Somewhere along the way she also became a beadwork designer and teacher. She enjoys cooking recipes found in her formidable cookbook and culinary fiction collection. Searching for unique treasures at art fairs, flea markets and thrift stores is also a favorite pastime. Coffee is an essential part of her life. She writes the Culinary Competition Mystery Series, along with The Bartonville Series (women's fiction) and the 6:1 Series (flash fiction). She has also had many short stories published in both online and print publications.