Destination:
Enjoy the bustle of Manhattan
Synopsis:
Jennifer Sharpe is a divorced mother of two with a problem just about any working parent can relate to: her boss expects her to work as though she doesn't have children, and her children want her to care for them as though she doesn't have a boss. But when, through a fateful coincidence, a brilliant physicist comes into possession of Jennifer s phone and decides to play fairy godmother, installing a miraculous time-travel app called Wishful Thinking, Jennifer suddenly finds herself in possession of what seems like the answer to the impossible dream of having it all: an app that lets her be in more than one place at the same time. With the app, Jennifer goes quickly from zero to hero in every part of her life: she is super-worker, the last to leave her office every night; she is super-mom, the first to arrive at pickup every afternoon; and she even becomes super-girlfriend, dating a musician who thinks she has unlimited childcare and a flexible job. But Jennifer soon finds herself facing questions that adding more hours to her day can't answer. Why does she feel busier and more harried than ever? Is she aging faster than everyone around her? How can she be a good worker, mother, and partner when she can't be honest with anybody in her life? And most important, when choosing to be with your children, at work, or with your partner doesn't involve sacrifice, do those choices lose their meaning? Wishful Thinking is a modern-day fairy tale in which one woman learns to overcome the challenges and appreciate the joys of living life in real time.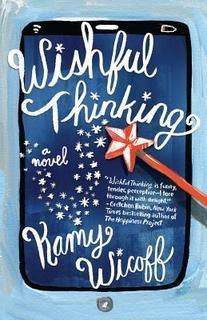 My review: When I had three young children, and a full-time job, I often wished there was a way to be in two or more places at the same time. While I thought more along the lines of clones, this book deals with a smartphone app which allows time travel.

The story draws you in from the beginning and seems almost plausible most of the time. As Jennifer finds more time in her day, she finds more "things" to fill that time, and begins to use the app more and more. At the heart of this story is the question of what it truly costs to "have it all" and be the proverbial Superwoman.
This was a book that I didn't want to put down--I needed more time in MY day just to be able to sit and read it uninterrupted. All the characters are well written and recognizable, even lovable. I absolutely adored Dr. Sexton--I looked forward to every scene she was in and every description of her outfits (still not sure about the one black shoe and one red shoe thing! LOL)
The wrap up of the story wasn't a magical, unbelievable one, which I worried it might be. Even though it was a "happily ever after" ending, it was one that most of us could achieve--WITHOUT a time travel app!
I received a copy of this book from BookSparks as part of the Summer Reading Challenge, in exchange for an honest review. All thoughts and opinions are entirely my own.
My rating: Five stars
Kamy Wicoff is the author of Wishful Thinking, a novel about a divorced mother of two boys (as a divorced mother of two boys, she didn't have to reach hard for that one) who gets an app on her phone that lets her be in two places at the same time. (She could have used the app to help her finish the book faster.) She is also the bestselling author of the nonfiction book I Do But I Don't: Why The Way We Marry Matters, and founder of one of the world's largest communities for women writers, www.shewrites.com. She is also founder, with Brooke Warner, of She Writes Press. She lives with her family in Brooklyn, New York. To learn more, visit www.kamywicoff.com.