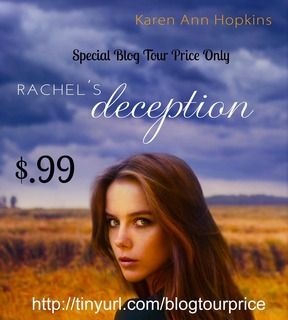 Release Date: May 8th, 2015
Growing up Amish is difficult…but leaving it behind is even harder.
Noah was Amish...Rose wasn't. Being together should have been impossible. But somehow they found a way to make it work. They are finally a family, but their happily-ever-after is still a long off. Will Rose and her friends be able to force real change in the community?
Karen Ann Hopkins returns with a gripping new book in the YA Temptation series. The powerful family saga continues with Rachel's Deception, as events spiral out of control in the sleepy farming community of Meadowview. And Rachel Miller has her own secrets to hide. Noah's younger sister has been living a double life. That is, until Justin Cameron, Rose's little brother, catches her in the act. Rachel is not the obedient Amish girl that her sister was, and her rebelliousness takes her to a very dangerous world. A world that only her true friends can help her escape from.
As Rachel questions all she has been taught about love, family, and commitment, Rose discovers what it really means to be shunned. And an evil shadow looms on the horizon, threatening not only Rose, but everyone she holds dear.
Add to Goodreads
|
Amazon
│
Barnes & Noble
My Review: This is my first book in the Temptation series. I was concerned that it might be difficult to follow along, but didn't have a problem at all. I'm planning to go back and read the first three, however, just because I enjoyed this one so much and would like to know everyone's full backstory before the fifth book comes out.
The cover is beautiful, and goes along with the others in the series. It doesn't give much of a clue to the story of Rachel, however.
After reading the prologue, you are well aware that there is going to be trouble for Rose at some point in this book, even if the focus is mainly on her young sister-in-law, Rachel. Knowing that is was coming, and knowing that Rose and Nathan had no idea for much of the book, just added to the tension of the story.
There are several stories going on at once, but they aren't difficult to follow. In fact, they bring the Amish and English characters together in easily believable ways throughout. Even though it was only a small part of the story, I was most moved by the visit Rose made to another Amish community, which is more "basic" even than Meadowview.
The story of Rachel, and her feelings for Micah, who is Amish, and Justin, who is not, is far from finished, and I can hardly wait to see where it goes.
I received an e-copy of this book via Deitre Helvy and her tour company A Leisure Moment free in exchange for my honest review. All thoughts and opinions are entirely my own.
My Rating: Four stars
Karen Ann Hopkins resides in northern Kentucky with her family on a farm that boasts a menagerie of horses, goats, peacocks, chickens, ducks, rabbits, dogs and cats. Karen's main job is home schooling the kids, but she finds time to give riding lessons, coach a youth equestrian drill team, and of course, write. She was inspired to create her first book, Temptation, by the Amish community she lived in. The experiential knowledge she gained through her interactions with her neighbors drove her to create the story of the star-crossed lovers, Rose and Noah.
Karen grew up about a mile from Lake Ontario in Upstate New York. She was bitten by the horse bug at the age of five, and after diligently taking riding lessons for several years, was rewarded with her first horse at the age of eleven. The feisty horse's name was Lady, a Quarter Horse-Thoroughbred cross, who became Karen's steadfast companion. Through the years, the constant force in her life was horses. Eventually, she found her place as a riding instructor herself. Before accepting her fate in the barnyard, she worked a short stint as a paralegal, traveled abroad, and guided tourists on horseback riding tours in the Smoky Mountains of Tennessee.
Karen is currently working on her Amish mystery series, Serenity's Plain Secrets, along with the YA paranormal/fantasy series, The Wings of War. Karen is also excited to announce the Temptation series has been optioned for TV by Pilgrim Studios and is available on Audible.
Temptation Series
The Temptation Series is now available on Audible. Listen to

a sample on audible now.
a Rafflecopter giveaway