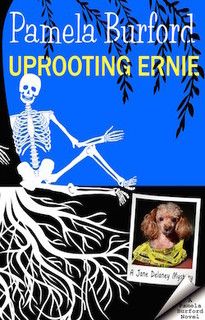 Synopsis:
Death Diva Jane is simply going about her business, which in this case requires her to empty a three-liter spigot box of cheap rosé on a grave, when she and her furry sidekick Sexy Beast make a grisly discovery in the town cemetery.
The victim was murdered three decades ago, but memories are fresh and old grievances fresher as facts come to light and fingers start pointing. Naturally Jane must investigate. Well, what would you do if one of your best pals turned out to be Suspect Numero Uno?
Meanwhile, between her amorous ex and a sexy bad boy who keeps popping up in the most distracting way—not to mention the (creepy? bizarre? pathetic?) guys she's meeting through a dog lovers' dating site—her love life has never been so (creepy? bizarre? pathetic?)… interesting.
Thoughts: I didn't read the first book of this series, but it wasn't really necessary to enjoy this one. The relationships between the characters were generally well-explained as characters came into play in this story, and bits of the backstory were doled out where they were relevant.
I love that Jane actually talks to the reader throughout the story, and has a very sarcastic sense of humor. And I couldn't help but smile every time she mentioned the name of her toy poodle, Sexy Beast---it's just so ridiculously cute!

The mystery is very well developed, and plays out at a reasonable pace. There were a few clues I missed, but saw clearly when I went back through a second time. Hope to read more of Jane and SB in the near future.
**I received a copy of this book in exchange for an honest review. All thoughts and opinions are entirely my own.**
My rating: Four stars