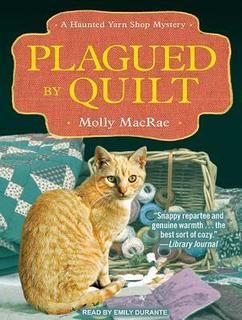 Synopsis:
Kath and her needlework group TGIF (Thank Goodness It's Fiber) are preparing to teach a workshop at the Holston Homeplace Living History Farm, but their lesson in crazy quilts is no match for the crazy antics of the assistant director, Phillip Bell. Hamming it up with equal parts history and histrionics, Phillip leads an archaeological dig of the farm's original dump site--until one student stops the show by uncovering some human bones.
When a full skeleton is later excavated, Kath can't help but wonder if it's somehow connected to Geneva, the ghost who haunts her shop, and whom she met at this very site. After Phillip is found dead, it's up to Kath to thread the clues together before someone else becomes history.
Thoughts:
This is my first story from this series, but it definitely won't be my last. I love Kath and her "posse," and most especially Geneva, the ghost, and the conversations she has with Kath.
Even though this is the fourth installment in this series, I had no problem keeping up with the characters and their relationships. I have a feeling I will go back and read the first three in time, though, just to have a stronger background for the future.
Aside from the main mystery the group tries to solve, there is a secondary mystery--a cold case--brought on by the discovery of two skeletons. There is the paranormal aspect provided by Geneva, the romance of Kath and Joe, and the various family relationships and friendships of the main characters.
Thanks to some things we learned in this book, I think future installments are going to be even more interesting. Can't wait to see where Molly takes us next!
My rating: Four stars