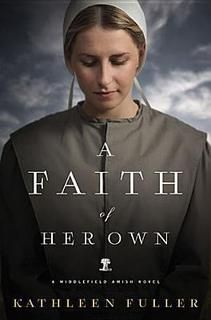 Synopsis:
Can Anna Mae heed God's call on her life, even if it means leaving behind everything she knows . . . and everyone she loves?
Ever since Anna Mae's childhood friend Jeremiah left their Amish community, she's questioned her own place in the Amish world. The Amish life feels as if it's closing in on her, and with her mother trying to set her up with potential suitors, Anna Mae feels trapped in a life she's not sure she wants anymore. But she's never told anyone that she longs for a tiny taste of freedom--freedom that could be very costly.
When Jeremiah suddenly reappears in Middlefield to help his mentor, Yankee veterinarian Dr. Miller, new questions surface for Anna Mae, along with feelings she'd never fully acknowledged before.
As Anna Mae and Jeremiah rekindle their friendship, old feelings take on new meaning. Yet the question still lingers: What is God's plan for her life? Should she stay, keeping loyal to her Amish family, or does God have a bigger plan--one that provides more freedom than she could imagine? The answers do not come easily, and the answer to God's call may lie in different directions . . . for both of them.
Thoughts:
A great look at several romantic relationships in various stages. Johnny and Katie are an Amish married couple who have been trying for several years to have a child; Bekah and Caleb have known each other for years, and treat one another as pests in their lives; Anna Mae is still in love with Jeremiah, who left the church and his family to pursue his education and a career as a veterinarian; Judith, a widow, has feelings for David, the father of Jeremiah and of Amos, a special needs young man, but David has an unresolved relationship with his wife, Marie, who deserted the family years ago.
This is the first full-length novel I've read by Fuller, although I have read several things by her in Amish anthologies. I enjoy her writing, and the insight she provides into the Amish culture here in Ohio.
I was drawn into the story from the first page, and couldn't put it down till I got to the last one. I read it cover to cover in one sitting, which is very unusual for me these days. Looking forward to reading more about Middlefield in the future.
**I received a copy of this book from BookLookBloggers in exchange for an honest review. All thoughts and opinions are entirely my own.**
My rating: Five stars