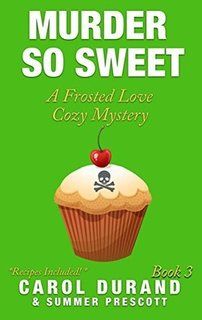 Synopsis:
Missy and Detective Becket are back in Louisiana and after all the hoopla in Vegas Missy has become so popular that she's expanding all the way across town to Darryl "The Donut Man" Davis's old shop. However, Missy smells something fishy and suspects foul play when one a fellow shop owner is murdered.
Could it be that the same country thugs who tried to strong-arm her into using their suppliers got a little too carried away and now someone is dead?
Thoughts:
This is the third book in the Frosted Love Mystery series, and I found it to be even better than the first two. The author has put in more detail and more character development, but there still seems to be a rush to wind things up. I know she prefers to keep the books relatively short (it took less than an hour to read), but perhaps making them slightly longer would give more time to wrap up the mystery, giving us more clues so that we have some ideas about who might be the murderer. It would also be fun if some recipes were included for the cupcakes mentioned in each story. I'd LOVE to be able to make a batch of the Purple People Pleaser!

There is a teaser at the end of this book which has me anxious to read the next one, which I hope will continue to show signs of improvement. There is incredible potential for the future of this series.
My rating: Four stars