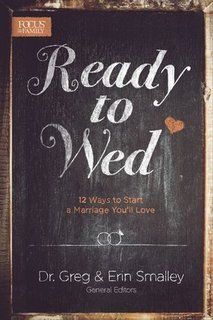 Synopsis: Rings. Dress. Cake.
You're engaged, and the checklist for the day of your dreams is a mile long. In the
who
,
what
,
where
, and
how
of planning, the
why
can be forgotten.
Ready to Wed
discusses 12 Traits of a thriving marriage and offers a variety of topics to guide and advise those preparing to say, "I do!"
Learn to: Define a vision statement unique to your marriage. Positively engage conflict to build a foundation of trust and forgiveness. "Leave and cleave," even if you are a child of divorce. Manage expectations—and your in-laws! Navigate hot-button issues including, sex and the chore wars. Cope with change, stress, and crisis—especially in your first year. Build a community of support and find mentors. Assess your progress using the Couple Checkup. Loaded with advice, tips, and instructions, this valuable resource is ideal for soon-to-be-newlyweds and those who support them!
Thoughts:
This is a very informative, educational book for couples. After reading through it myself, I now plan to share it with my children who are engaged and planning weddings.
While it does have Biblical references and a Christian perspective, it is still beneficial for those who might not be coming at marriage from a religious perspective. It's like having premarital counseling in the comfort of your own home.
The book is divided into two sections: one on preparing for marriage, and one on conflict management. Each chapter is written by a different expert, so that you get a variety of perspectives.
Even though the book is about starting a marriage, I found some tidbits that will be beneficial to my well-established marriage as well.
**I received a copy of this book in exchange for an honest review. All thoughts and opinions are entirely my own.**
My rating: Five stars