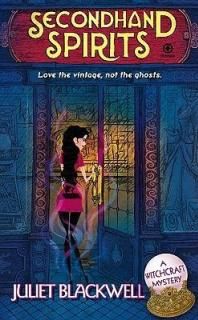 Synopsis: Lily Ivory hopes for a normal life when she opens Aunt Cora's Closet. With her magical knack for vintage fashion—she can sense vibrations of the past from clothing and jewelry—her store becomes a big hit.
But when a client is murdered and children start disappearing from the Bay Area, Lily may be the only one who can unravel the crime. She tries to keep her identity a secret while investigating, but it's not easy—especially under the spells of sexy "mythbuster" Max Carmichael and powerful witch Aidan Rhodes. Will Lily's witchy ways be forced out of the closet?
Thoughts: Read this a few years ago, but when I found the entire series in audiobooks from my library, I decided to start over from the beginning. Lily is such a fun character, and I love the idea of her having a vintage clothes store, where she can match clothes to people based on the vibrations. Her "familiar," Oscar, is great fun as well. The mystery is well told, and while the clues were there all along, they weren't always easy to pick out, which for me is a good thing.