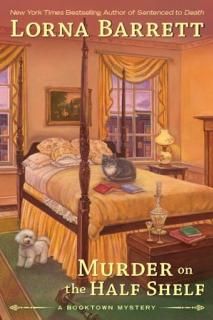 Synopsis: The town of Stoneham is a haven for bookstores, but it is sadly lacking in bed-and-breakfasts. Fortunately Pippa and Jon Comfort's Sheer Comfort Inn is about to open, and the couple has offered some locals a free night as a trial run.
But it won't be so easy to sleep after Tricia makes two startling discoveries: Pippa's murdered body in the backyard, and the fact that Pippa's husband, Jon, is actually Harry Tyler, a man Tricia loved--and believed dead--for nearly twenty years.
Though Harry is the prime suspect, Tricia doesn't believe him capable of murder, even though he's led a life of lies. Especially when she discovers that Pippa had a few secrets of her own--some that may have been worth killing for.
Thoughts: Considering how many bookstores and book related cafes/restaurants there are in Stoneham,New Hampshire, I think I've found my dream residence. :) Tricia is a very likeable character, but her sister is a snobby, entitled jerk. In this book, Tricia's on again/off again boyfriend, also the police chief, is putting distance between them to keep townspeople from talking. I wasn't a fan of Mr. Everett and his wife, Grace...they annoyed me just a little too much. The plot was a good one, but I didn't feel there were enough clues to lead me to the solution before it was written out for me.