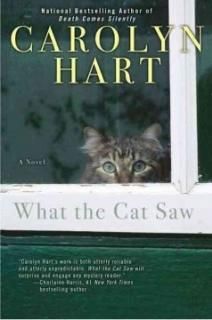 Synopsis: Ever since the death of her fiancé, Nela Farley has found herself plagued by a sixth sense: she understands the thoughts of cats when she looks into their eyes. Nela knows that what she's experiencing is completely irrational and tries to convince herself that she is simply transferring her own thoughts that she doesn't want to face.
When her adventurous sister, Chloe, goes on a trip and asks for a favor, Nela welcomes the distraction and agrees to substitute at Chloe's job at a charitable foundation. Chloe has arranged a place for her sister to stay, but when Nela shows up, she encounters the previous tenant's cat and gets a flash of thought: ". . . dead . . . dead and gone . . . She loved me . . . board rolled on the second step . . ."
Nela wants to ignore what the cat saw, but the idea that the death of former tenant Marian Grant wasn't an accident is something she can't ignore. As Nela begins to do some research into Marian's life, strange events begin to occur, all seeming to lead back to the Haklo Foundation. But when a detective becomes suspicious of Nela's sister and a second murder occurs, Nela realizes she'll have to make the most of her unwanted ability to figure out what's really going on, before she meets her own untimely end…
Thoughts: I enjoyed most of this audiobook...the interaction of the characters, the idea of the cat "speaking" to Nela telepathically, the budding romance. But the murderer was revealed and captured in the last three minutes, as though the author almost forgot that was the point of the entire novel.