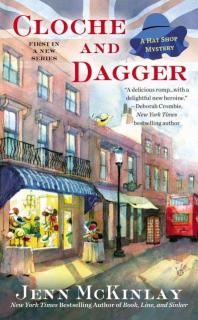 Synopsis: Not only is Scarlett Parker's love life in the loo—as her British cousin Vivian Tremont would say—it's also gone viral with an embarrassing video. So when Viv suggests Scarlett leave Florida to lay low in London, she hops on the next plane across the pond. Viv is the proprietor of Mims's Whims, a ladies' hat shop on Portobello Road bequeathed to both cousins by their beloved grandmother, and she wants Scarlett to finally join her in the millinery business.
But a few surprises await Scarlett in London. First, she is met at the airport not by Viv, but by her handsome business manager, Harrison Wentworth. Second, Viv—who has some whims of her own—seems to be missing. No one is too concerned about the unpredictable Viv until one of her posh clients is found dead wearing the cloche hat Viv made for her—and nothing else. Is Scarlett's cousin in trouble? Or is she in hiding?
Thoughts: For me, this book took way too long to actually reach out and grab me...I was halfway done before I really began to care about the characters and the mystery. Hoping that, since this was the debut of the series, the second book will move along a little faster and be more exciting.