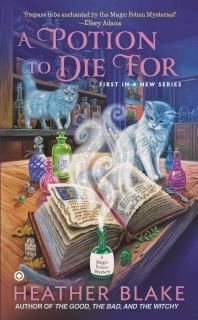 Synopsis: As the owner of Little Shop of Potions, a magic potion shop specializing in love potions, Carly Bell Hartwell finds her product more in demand than ever. A local soothsayer has predicted that a couple in town will soon divorce—and now it seems every married person in Hitching Post, Alabama, wants a little extra matrimonial magic to make sure they stay hitched.
But when Carly finds a dead man in her shop, clutching one of her potion bottles, she goes from most popular potion person to public enemy number one. In no time the murder investigation becomes a witch hunt—literally! Now Carly is going to need to brew up some serious sleuthing skills to clear her name and find the real killer—before the whole town becomes convinced her potions really are to die for!
Thoughts: Heather has done it again! Just like in her Wishcraft mysteries, she's created another group of characters who are fun, likeable, and realistic. Carly, her parents, her aunts, and all her friends and acquaintances live in Hitching Post, Alabama,which is a prime location for weddings. Carly runs a potion shop, and her cousin, with whom she has a troubled relationship, runs a hex shop. Carly's ex-fiancee is a cop, and her best friend is married to the local minister. Her mother runs a wedding chapel, and each of her three aunts run a bed and breakfast. You can see the potential for a LOT of stories here!