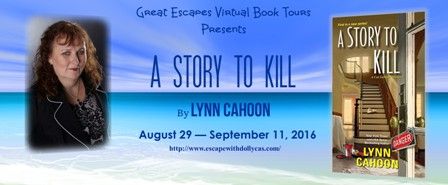 A Story to Kill (A Cat Latimer Mystery)
Cozy Mystery
New Series
Mass Market Paperback: 320 pages
Publisher: Kensington (August 30, 2016)
ISBN-13: 978-1496704351
E-Book ASIN: B0190HGVK6
Synopsis:
Former English professor Cat Latimer is back in Colorado, hosting writers' retreats in the big blue Victorian she's inherited, much to her surprise, from none other than her carousing ex-husband! Now it's an authors' getaway—but Cat won't let anyone get away with murder…
The bed-and-breakfast is open for business, and bestselling author Tom Cook is among its first guests. Cat doesn't know why he came all the way from New York, but she's glad to have him among the quirkier—and far less famous—attendees.
Cat's high school sweetheart Seth, who's fixing up the weathered home, brings on mixed emotions for Cat…some of them a little overpowering. But it's her uncle, the local police chief, whom she'll call for help when there's a surprise ending for Tom Cook in his cozy guest room. Will a killer have the last word on the new life Cat has barely begun?
Review: I have always enjoyed this author's Tourist Trap series of cozy mysteries, so I was thrilled to learn she was beginning another series. This one really grabbed my writer's soul and heart, being based around a writing retreat and with the main character being an author.
I was definitely not disappointed by the first book of this new series. Cat Latimer is a remarkable character who has been through a lot in her young life but has come through it all stronger and more determined.
The supporting characters, including Cat's partner in the retreat, Shauna, her former (and future?) boyfriend, Seth, and her Uncle Pete (who is also the police chief), are great complements to Cat's character and her personality. I look forward to seeing all of them in future stories, and hope that Cat and Seth will figure out their relationship as they move forward as well.
The story is very well written, as are all of Ms. Cahoon's books. She will keep you guessing as to who the killer really was, and why they committed the crime. I was totally surprised by the identity and motive of the killer, which is just the way I like it.
I highly recommend this to anyone who enjoys cozy mysteries!
**I received a copy of this book in exchange for an honest review. All thoughts and opinions are entirely my own.**
Rating: Four stars
About the author
New York Times and USA Today best-selling author, Lynn Cahoon is an Idaho native. If you'd visit the town where she grew up, you'd understand why her mysteries and romance novels focus around the depth and experience of small town life. Currently, she's living in a small historic town on the banks of the Mississippi river where her imagination tends to wander. She lives with her husband and two fur babies.
a Rafflecopter giveaway