Age Range:

4 - 7 years

Grade Level:

Preschool - 2

Hardcover:

32 pages

Publisher:

Ideals Childrens Books (April 5, 2016)

Language:

English

ISBN-10:

082495677X

ISBN-13:

978-0824956776
Synopsis:
"Would a worm go on a walk, if you could lead him down the street? / Would he wear his tiny tennies, if he had two worm-sized feet?"
So begins this humorous and imaginative picture book that introduces children to the idea that animals are uniquely created by a loving and wise God.
Would a Worm Go on a Walk?
, with its colorful, comical illustrations, is a fresh, fun way to teach young children that God created all things very good. He gave all the animals, and children, too, wonderful qualities and unique strengths. Children will giggle over the ridiculous scenarios presented, and they will come away with the knowledge that we all are loved and special.
Buy link:
http://shopbetterbooks.com/would-a-worm-go-on-a-walk
Review:
What a great little book! The illustrations are big and colorful, and the animals are positively adorable. My favorite picture is of the parachuting penguins (one of my favorite animals!). The rhyming text is fun, and will have little children giggling as they listen.
The purpose of this book, though, is to remind children that each animal in the book has its own unique qualities--and that each human being does as well. As the last page says "The animals were just a start. God's masterpiece is YOU!"
**I received a copy of this book in exchange for an honest review. All thoughts and opinions are entirely my own.**
About the author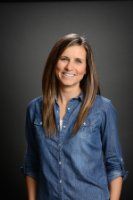 Hannah C. Hall is the author of best-selling children's books, including
God Bless You and Good Night
and
God Bless Our Christmas
, as well as an award-winning blog, HannahCHall.com. Hannah lives in Prairie Grove, AK with her husband, Josh, a worship pastor, and their four children.