Series:

Culinary Competition Mysteries

Paperback:

196 pages

Publisher:

CreateSpace Independent Publishing Platform (June 9, 2016)

Language:

English

ISBN-10:

1533179298

ISBN-13:

978-1533179296
Synopsis:
Culinary competitor Amy Ridley is as excited as anyone in Kellerton, Michigan to have DIY Home Improvement star, Phoebe Plymouth, come to town for the first annual Cabin Fever Cure event. However the TV personality's sour attitude quickly curdles people's opinion of her. When she's found dead, at the business owned by Amy's husband, Alex, the heat is on to catch the killer before his professional reputation is ruined!
When Amy seeks help in preparing for a vegan baking recipe contest, she also finds assistance from an unlikely team of sleuths who want to help her catch the murderer. But things go from bad to worse when Alex and his business suddenly suffer a series of less-than-random attacks. Are the murder and attacks related? Amy vows to figure it out before her and her husband's lives are ruined…or ended permanently!
"I so regret eating spicy beef with broccoli last night," Carla said as she steered the stroller around the corner. "Poor Macy's stomach is gurgling so much that I could hear it when I changed her diaper."
"I don't get it. Your dinner last night made Macy cranky this morning?"
"Yes." Carla wrinkled her nose. "I don't know the exact science behind it, but she basically ends up eating whatever I do through my breast milk. Chile peppers and cruciferous vegetables were not a good idea."
That was something Amy had no clue could happen. It seemed as though every time she talked to Carla she learned a new fact that further demonstrated her immense lack of knowledge on pregnancy and child-rearing. The mysterious road of parenthood wasn't a route Amy had any desire to explore. She had convinced herself it would be a trip into the haunted forest of bad parenting doom. But that wasn't the most frightening thing in her life at the moment. She had been studying the stores on the other side of the street, whose Dumpsters were in the same alley that ended in Quantum Media's parking lot. Why had Alex's business been the unlucky "winner" of a gruesome dead body? But Carla's odd comment about Chinese food snapped her straying thoughts back on track to the conversation with her best friend. "That's interesting…challenging, I'd think, to figure out what is safe to eat that won't upset Macy's tummy."
"Yes, it is. I feel like I'm on some sort of strange fad diet invented by sadists." Carla sighed. She nodded at Quantum's building. "How are you doing after finding another dead body?"
"Okay." Amy involuntarily shivered. Her mouth said she was fine, but her body was conveying how she really felt. Creeped out. Phoebe had looked like an actress in a zombie movie. Ick. "Worried about the detective who is handling the case. Has your hubby said anything about her? I got some bad vibes from her yesterday. She didn't seem very personable."
Carla stopped walking to cover Macy's legs back up with a plush pink blanket. The stop in motion led to an immediate cry of indignation. She slipped a pacifier into the baby's mouth. "You do realize homicide detectives aren't supposed to give you warm, fuzzy feelings. From what I've heard from him, Lauren is very professional and analytical. Before she was even assigned to this case, he told me he thinks she'll do well, that she has good instincts."
"I hope so. I know Alex isn't involved, but it's scary that a body was found on his business's property." She looked over her shoulder, up at the second floor where Alex's office was located. "I'm sure everybody is on edge there this morning. Not an environment conducive to creativity if the employees are all wondering if they work with a homicidal maniac."
Review:
I love this series more with every release! Amy is a fun and engaging main character, and her talent with food makes me jealous--and hungry!
Once again, Amy is faced with a murder which involves a friend/family member, so she just "has" to get involved. That leads to some entertaining adventures, as well as some dangerous situations. As someone who has been following the entire series, it was nice to learn more about Amy's husband and his business in this book.
On a personal note, I want to thank Janel for writing a scene that spoke the words of my heart toward my own Amy, my youngest daughter. She knows the one I mean, so I'll just leave it at that. :D
**I received a copy of this book in exchange for an honest review. All thoughts and opinions are entirely my own.**
Rating: Five stars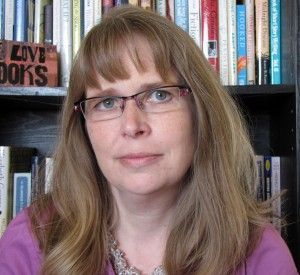 Janel Gradowski lives in a land that looks like a cold weather fashion accessory, the mitten-shaped state of Michigan. She is a wife and mom to two kids and one Golden Retriever. Her journey to becoming an author has been littered with odd jobs such as renting apartments to college students and programming commercials for an AM radio station. Somewhere along the way she also became a beadwork designer and teacher. She enjoys cooking recipes found in her formidable cookbook and culinary fiction collection. Searching for unique treasures at art fairs, flea markets and thrift stores is also a favorite pastime. Coffee is an essential part of her life. She writes the Culinary Competition Mystery Series, along with The Bartonville Series (women's fiction) and the 6:1 Series (flash fiction). She has also had many short stories published in both online and print publications.
Author Social Media Links/Profile:
Website: http://www.JanelGradowski.com
Facebook: https://www.facebook.com/AuthorJanelGradowski
Twitter (@JanelGr): https://twitter.com/JanelGr
Google+: https://plus.google.com/u/0/+JanelGradowski/about
Goodreads: https://www.goodreads.com/author/show/5829171.Janel_Gradowski
The Treasure Hunt letter for Book Babble is: N
Collect all of the letters to spell out the Treasure Hunt word then use it to gain extra entries in the Grand Prize giveaway. You can find all of the blog tour stops and enter the giveaway at www.janelgradowski.com.