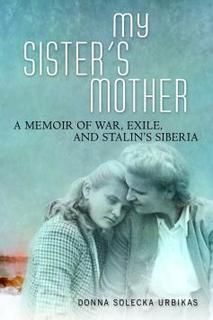 Genre: Memoir
Hardcover:

312 pages

Publisher:

University of Wisconsin Press; 1 edition (April 27, 2016)

Language:

English

ISBN-10:

0299308502

ISBN-13:

978-0299308506
Buy link for
My Sister's Mother
Amazon:
Synopsis:
Donna Solecka Urbikas grew up in the Midwest during the golden years of the American century. But her Polish-born mother and half sister had endured dehumanizing conditions during World War II, as slave laborers in Siberia. War and exile created a profound bond between mother and older daughter, one that Donna would struggle to find with either of them.
In 1940, Janina Slarzynska and her five-year-old daughter Mira were taken by Soviet secret police (NKVD) from their small family farm in eastern Poland and sent to Siberia with hundreds of thousands of others. So began their odyssey of hunger, disease, cunning survival, desperate escape across a continent, and new love amidst terrible circumstances.
But in the 1950s, baby boomer Donna yearns for a "normal" American family while Janina and Mira are haunted by the past. In this unforgettable memoir, Donna recounts her family history and her own survivor's story, finally understanding the damaged mother who had saved her sister.
Review: An incredibly honest memoir, dealing with war, exile and refugees. What the author's mother and older sister went through during WWII grabs the reader from the first page and keeps you reading. It is also fascinating to see how their experiences weighed on Donna, who wasn't born until a decade later--and how learning their true story gives her a better understanding of her mother.

I like the fact that the two stories--Janina's and Donna's-- alternate and are woven together until we come to a point where they converge.

The emotional impact of this story will stick with you for a long time after you finish reading, but it is well worth it.

**I received a copy of this book in exchange for an honest review. All thoughts and opinions are entirely my own.**

GUEST POST
Growing up in America, trying to deal with the whole immigrant assimilation issue on top of dealing with a mother who could not stop talking about her ordeals during WWII in the labor camps of Siberia was an enormous challenge for me. Starting with my name, my life was so different from those American friends in my Catholic grade school. My name officially is the very formal Danuta, which for everyday use in Polish is Danusia, Dana (sounds like Donna), or Danka. When I started school at the age of four, my kindergarten nun told me my name was translated to Diana, which is not true. Throughout grade school I went by that name, so that I could blend in better.
At the age of ten, my mother signed me up for summer camp, using my official Polish name, so the organizers thought I was a boy and assigned me to the boys section, much to my huge embarrassment. I went home that night and scolded my mother to NEVER use my Polish name of Danuta again! In high school I changed it to Diane at the behest of a good friend, and by the time I got to college, I used Donna as the more accurate translation. It was an identity crisis I wasn't even aware of, but it weighed on me. Who was I really?
My name confusion seems like a small matter today but is an example of my strained relationship with my mother. Recently at a presentation of my book,
My Sister's Mother: A Memoir of War, Exile, and Stalin's Siberia
, someone asked me how my relationship with my mother was before I wrote the book and afterwards. No doubt about it, my relationship with my mother was difficult from the start. I didn't want to be reminded of the war constantly. I wanted my mother to be like the other kids' Moms, like the character on the Donna Reed show which I watched religiously, trying to learn how a true American family was supposed to behave.
It wasn't until I became a mother myself did my mother finally agree to let me write her story. I think then she thought I would understand her difficult journey trying to save my sister throughout that whole war ordeal. The original manuscript did not include my struggles with my mother. In the end, my mother stopped talking about the war as if my writing about it were a catharsis for her, and in some ways it was for me. Later, when I incorporated my story as it related to growing up with a mother who had been sent to Siberia as slave laborer, I grew to appreciate her difficulties trying to save my sister and to understand her crazy behavior when I was a child and young adult. The resulting story in
My Sister's Mother
is the tale of a mother and her two daughters born years apart in two different worlds but with very different relationships with that mother. In the words of one reviewer, author Leonard Kniffel, "This stunning, heartfelt memoir looks unflinchingly at the scars borne by one Polish immigrant family as their daughter tries to become a normal American girl in Chicago. A gripping study of family dynamics, this is also a must-read for Worl
d War II history buffs."
Born in Coventry, England, Danuta or "Donna" Urbikas immigrated to the USA with her parents and sister, the subjects of the book, in 1952, settling in Chicago, Illinois, and growing up in the Polish community. After attending Catholic grade schools and a public high school in Chicago, she graduated from the University of Illinois—Chicago Circle with a degree in biology and began teaching high school biology.
In 1976, she took her first trip to Poland to meet relatives and explore her parents' home towns. On the cusp of the Solidarity Movement, her movements were restricted by the Communists and the trip became a significant life experience. Later, she graduated from the Illinois Institute of Technology, Chicago, Illinois, with a Master's Degree in Environmental Engineering. The author has published her thesis, technical articles, worked as a teaching and research assistant and served as president of the Society of Women Engineers in Chicago, participating in numerous public speaking engagements. She went on to work as an environmental engineer and project manager in charge of water and wastewater compliance at coal and nuclear power plants and as an industry spokesperson.