Genre: Dark romantic suspense
Series:

Hourglass

Paperback:

386 pages

Publisher:

CreateSpace Independent Publishing Platform; 1 edition (January 18, 2016)

Language:

English

ISBN-10:

1523469633

ISBN-13:

978-1523469635


Synopsis:
A POWERFUL, MYSTERIOUS woman finds a homeless girl in a New York subway and adopts her. Janet swears loyalty to the White family and they train her at their Academy as a secret agent. Before long, her transformation into the Red Hourglass—an assassin—is complete. She is ready to start her missions in service of the White Queen.
In order to learn the whereabouts of her real mother from the White Queen, the Red Hourglass must stop the planned expansion of Wilmar Enterprises. She goes undercover to infiltrate Wilmar, and she is hired as the executive secretary to the Chief of Security, Conan Casey.
Janet works diligently to uncover all Wilmar's secrets. She soon learns that Conan Casey, her target, is heir to the billion dollar Wilmar organization. She falls prey to his dark seductions and twisted secrets … and they leave her gasping for more.
She unwittingly bets her stakes on a dangerous game of love. Where do her loyalties lie? Will she betray Conan for the White Queen, or fall in love with him and give up all hope of finding her real mother? And will they get out alive?
The first in the Hourglass series - a dark coming of age thriller romance novel about finding one's identity with dominance and submission romance scenes against the backdrop of capitalism, undercover agents, poker and tango with an infusion of eastern and western philosophy.
A sequel will be released every Halloween.
Review: This is an adult story about Scarlet, who is taken off the streets of New York City, adopted and trained to be an assassin. The storyline follows her on an important mission, and we see her falling for the man she is tasked with ruining.

To be honest, I never really felt the chemistry between Scarlet and Conan. Their relationship seemed to fall flat for me. The story also starts out really slow, and I never felt the suspense I was hoping to find.
This is a reasonably good start for a beginning author. I will probably give the next book a chance to see if there is better character and plot development, making the story more engaging.
**I received a copy of this book from the author in exchange for an honest review. All thoughts and opinions are entirely my own.**
Rating: Three stars
About the author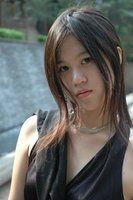 Scarlet Risqué stars in Scarlet Queen YouTube with over a million views. She is the author of the Hourglass (Romance/Thriller) Series. She holds a degree in business. She uses writing, dance, and theater to explore her dark and light desires. She's a poetic soul where pain and pleasure meet and East collides with West.
Each book in the Series has a female lead searching for her identity and truth in today's world. Set against a backdrop of globalization, these stories of intrigue and espionage are full of undercover agents, hints of BDSM erotica, and themes of dominance and submission.
Scarlet combines her business knowledge with her artistic sensibilities when she creates her art. She's interested in social issues-such as poverty, homelessness, and orphans-and when she writes about powerful businessmen and women she often examines the larger implications of their decisions can change the political and social outcomes of the world.
She loves her cat and crystal collection. Scarlet's passionate about traveling, dancing, and kink. She usually has wanderlust, and she can often be found fluttering her rainbow wings around the world.
Scarlet reads all her fan mail and she looks forward to hearing from you. Your feedback is crucial in helping her improve the Series.
http://thescarletqueen.com