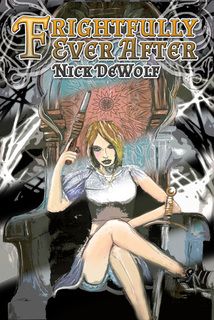 Genre: Urban paranormal fantasy
Paperback:

254 pages

Publisher:

Fey Publishing (June 4, 2015)

Language:

English

ISBN-10:

0692458190

ISBN-13:

978-0692458198
Synopsis:
"Do you know what the difference is between a fairy godmother and a witch?"

"What?"

"Not a goddamn thing."

Fairies and dragons are real, and live alongside giants, goblins and trolls. Fairy godmothers exist. The woodsman, that one from the story books? Yeah, he's real too. They're all out there, living in the world, right under your nose.

But they're not alone. There's another side to the coin. Witches are real. Monsters are real. Things that slither through shadows and bite at your skin are real.

The big bad wolf is very real.

And poor Anastasia – she was born with magical royal blood. She should have been a princess, but grew up under the thumb of a vicious crime boss. She's lived a life of pain, fear, and violence. In a desperate attempt to get away, she will find herself surrounded by all those things she thought never existed.

Good, bad, and evil.

FRIGHTFULLY EVER AFTER is a slow burn urban fantasy with guns, horror, sex, and monsters. People get hurt. People get killed. People get eaten. And only the toughest get to live Happily Ever After.
Review:
This is definitely not your average fairy tale for children! It is more a combination of Disney and Stephen King--it has elements of fairy tales, but it also has drug dealers, shoot outs, sex, and lots of bloody violence.
As I've always been a fan of the original, dark tales told by the brothers Grimm, this was a book that was right up my alley. I'm not a fan of the profanity and the graphic violence (hence only 4 stars instead of 5), but the overall story was intriguing enough to keep me reading in spite of those drawbacks.
One of my favorite things about the characters is that the good guys and bad guys weren't easily discernible. Just like in real life, some people seem to be on one side in the beginning, and as the story evolves, their real character emerges.
I would love to see Grimm, Inc. become an ongoing book series so we could learn more about the various folks in the company!
**I received a copy of this book in exchange for an honest review. All thoughts and opinions are entirely my own.**
Rating: Four stars