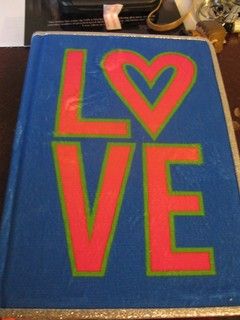 Description:
This adorable edition of God's Word for girls features the easy-to-understand New Living Translation text with a soft fur, bright-neon "LOVE" design and silver glittery lining. The "BOLD FAITH" design on the back cover encourages girls to live out their faith in ways that bring God glory.This hardcover deluxe edition also features purple page edges, neon orange ribbon marker, special presentation page, 8 pages of full-color maps, and a 53-page dictionary/concordance to help locate passages on various topics.The New Living Translation text is excellent for young readers because it is so clear and they can understand what they are reading! When they can read and understand God's Word, God can work in their hearts!
My thoughts:
I found a lot of great features to recommend with this Bible. My first thought on seeing the front cover was that it was a throwback to my teen years in the 70s. The neon colors and the silver glittery edging are adorable. The back cover also has neon colors, and the entire cover is a soft fur over a hardcover. The end pages are a bright pink, and the bookmark is neon orange, while the pages are edges in a beautiful shade of purple. It would definitely be difficult to misplace something this colorful!
At the front of the Bible, there is some information about the New Living Translation, including the names of the entire translation team. At the back, there is a dictionary/concordance, a list of Great Chapters of the Bible (chapters which deal with things such as creation, the ten commandments, sermon on the mount, the greatest commandment, faith, temptation, etc.), a list of great Bible verses to memorize, a 365 day reading plan to get through the entire Bible in one year, and several full-color maps.
The text includes the words of Jesus in red letters, and is a very reader-friendly translation, easy to understand. The "slimline" style makes it easier to carry, and the hardcover helps it to stay open to a specific page more than some softcover editions I've used.
**I received a copy of this Bible from Tyndale House Publishers in exchange for my honest review. All thoughts and opinions are entirely my own.**