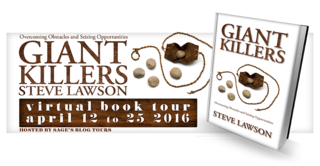 Genre:
Christian, Christian Living, Personal Empowerment
Print Length:

145 pages
Page Numbers Source ISBN:

1519655118
Publication Date:

January 18, 2016
Sold by:

Amazon Digital Services LLC
Language:

English
ASIN:

B01ATR9A2C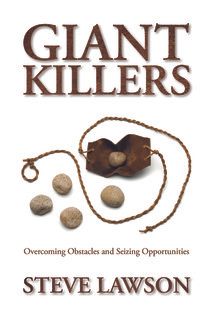 Synopsis:
It seemed a lopsided battle. On one side, a small shepherd with a sling and five stones. On the other, a heavily armored ten-foot giant whose taunts and challenges immobilized an army of seasoned warriors.
The story of David and Goliath has become an almost universal underdog story; but in reality, Goliath never stood a chance.
In
Giant Killers
, emotional intelligence speaker, consultant, and author Steve Lawson identifies the five vital emotional and social skills David possessed: identity, discipline, graciousness, action, and hope. When combined with the power of God's grace, these strengths made it possible for David to defeat Goliath, build a mighty army out of social rejects, and establish the greatest kingdom in the history of Israel.
Identity. Discipline. Graciousness. Action. Hope. These five important emotional skills establish how we perceive and express ourselves—and how willingly we seize the opportunities God provides. Who better to demonstrate these powerful traits than David, who slew his own giant?
We all face giants in our lives—challenges and obstacles that intimidate us, limit our potential, and keep us from moving forward. It's easy to feel like David fighting Goliath. And that's good—because David won. Like David, we can overcome any challenge, seizing with confidence the opportunities God places in our path.
Giant Killers
teaches you how to do so, providing a foundation on which you can build success after success. It all begins with you—and your willingness to trust in God's grace.
Review: This book was a quick easy read, but it is jam-packed with inspirational information. I enjoyed every single page of it, and couldn't put it down until I was finished with it.
This book talks about "giants" or "glass ceilings" we all have in our lives--things that keep us from moving forward, from reaching our full potential. These things can be internal (guilt, insecurity,worry, etc.), external (trauma, crisis, stress, finances, relationships), or opportunities (new job, new school, new ministry, personal growth, dreams, etc.). Thanks to the strategies in this book, we can learn to face them and to conquer them.
The most important quote I took away from this book was "Don't let your giants make the rules." To me, that means keeping focused on the goal and pressing on no matter what the obstacle.
If you have "giants" in your life (and let's face it, who doesn't?), I highly recommend this book!
**I received this book in exchange for an honest review. All thoughts and opinions are entirely my own.**
Rating: Four stars
About the author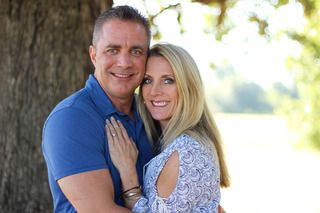 A former small-business owner and church planter, Steve Lawson recently stepped down as the senior pastor of Grace Community Church in Greenville, Texas, to focus on his writing, speaking, and leadership training activities.
He holds a doctor of strategic leadership degree from Regent University, a master of divinity degree from The King's University, an MBA from
Amberton
University, and a bachelor's degree in business administration from the University of North Texas.
Lawson owns Leadership Transformation Inc., providing emotional intelligence training and consulting to organizations of all sizes. More information on his consulting services is available at
www.leadershiptransformation.net
. An avid blogger and writer, Lawson is
available for speaking engagements in churches, seminars, and conferences. You can contact him at
www.stevelawson.us
.
He and his wife, Karen, live in Greenville, Texas. They are the parents of three grown daughters.