Genre: Historical fiction, romantic suspense
Series:

The Henrietta and Inspector Howard series (Book 1)

Paperback:

288 pages

Publisher:

She Writes Press (April 19, 2016)

Language:

English

ISBN-10:

1631520164

ISBN-13:

978-1631520167
Synopsis:

Henrietta Von Harmon works as a 26 girl at a corner bar on Chicago s northwest side. It's 1935, but things still aren't looking up since the big crash and her father's subsequent suicide, leaving Henrietta to care for her antagonistic mother and younger siblings. Henrietta is eventually persuaded to take a job as a taxi dancer at a local dance hall and just when she s beginning to enjoy herself, the floor matron turns up dead. When aloof Inspector Clive Howard appears on the scene, Henrietta agrees to go undercover for him and is plunged into Chicago's grittier underworld. Meanwhile, she s still busy playing mother hen to her younger siblings, as well as to pesky neighborhood boy Stanley, who believes himself in love with her and keeps popping up in the most unlikely places, determined to keep Henrietta safe even from the Inspector, if need be. Despite his efforts, however, and his penchant for messing up the Inspector

's

investigation, the lovely

Henrietta

and the impenetrable Inspector find themselves drawn to each other in most unsuitable ways.
Review: A fabulous debut novel by Michelle Cox. She takes the reader deep into the world of the 1930s in Chicago--the poverty and hopelessness are vividly portrayed in Henrietta's story. At the same time, we see her hope for a better future.
I enjoyed the interaction between Henrietta and Clive, and look forward to future stories in this series.
**I received a copy of this book in exchange for an honest review. All thoughts and opinions are entirely my own.**
Rating:
Four stars
About the author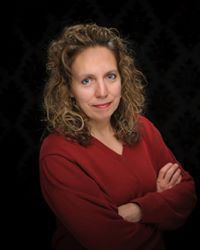 Michelle Cox has a B.A. in English literature from Mundelein College, Chicago. She is a writer of historical fiction but has also been known to dash off a mystery or two. While her heart might lie in the eighteenth century with Elizabeth Bennet and Mr. Darcy or in the crooked streets of Little Dorrit's London, she tends to write of a slightly more recent age, a time closer to the World Wars, when all was not yet lost and the last roses of summer were first coming into bloom. Ms. Cox lives with her husband and three children in the Chicago suburbs.