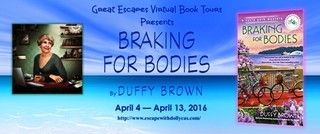 Publisher: Berkley (April 5, 2016)
Mass Market Paperback: 304 pages
Synopsis: Evie Bloomfield puts the pedal to the metal—in the latest Cycle Path mystery from the national bestselling author of Geared for the Grave.
Moving from Los Angeles to small, picturesque Mackinac Island to work in a bike shop might seem crazy, but Evie knows it's the best decision she's ever made. That's not to say she's gotten rid of all her stress; after all, the upcoming Lilac Festival has everyone in town riding in circles.
But things really go downhill when a ferry full of tourists—including Evie's friend Fiona's former boss, the editor of a sleazy rag in LA—arrives on the island. No one knows why Peephole Perry came all the way to Mackinac, but things aren't looking good for Fiona when Peep is found dead. Now Evie has to gear up and get a grip on the truth if she wants to clear her friend's name...
Review: I truly enjoy this series, and this book is even better than the first. Evie is one of the most humorous cozy heroines I've ever read about--she is always getting herself into trouble of one kind or another. In this story, there are wedding plan disasters, bike riding accidents, trying to solve a murder and clear her best friend's name, among other mishaps.
I loved that Evie and the sheriff managed to convince the tourists that the murder was actually part of a "murder mystery weekend," which had the tourists creating a variety of teams, planning an awards banquet and trying to solve the murder. It made for some incredibly hilarious situations!
One of my favorite things about this series is the setting. Although I have yet to visit Mackinac Island, it is somewhere I've always wanted to go--and the author describes it so well that I can picture it clearly in my mind.
The story grabbed my attention from the very beginning and held it all the way through to the end. I can hardly wait for the next adventure on the island!
**I received a copy of this book in exchange for an honest review. All thoughts and opinions are entirely my own.**