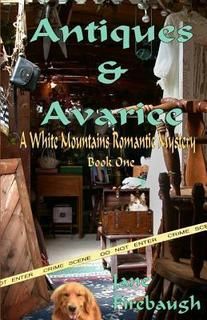 Genre: Cozy mystery
Series: White Mountains Romantic Mystery #1
File Size:

776 KB

Print Length:

276 pages

Publication Date:

November 27, 2015

Sold by:

Amazon Digital Services LLC

Language:

English

ASIN:

B018ND2KK8
Synopsis:
Olivia McKenna is a young woman with a passion for antiques and a penchant for mystery. Owning her own little antique finding business is just enough to keep her and her Golden Retriever, Molly fed, housed and happy. While shopping for antiques in a quaint little store, she discovers a body and becomes embroiled in a murder investigation, soon finding herself the victim of a stalker. The investigation is being handled by a handsome State Police Detective named Josh Abrams. Josh and Olivia feel an immediate connection and attraction. Can she and Josh discover who is after her before they wind up in more trouble than they can handle?
Review: A great debut novel from this author. It's easy to tell that she knows the White Mountains area well, from her descriptive writing.
Olivia is an easily likable character. She seems like the sort of person I would want to get to know in real life. We could go antique shopping together, and solve mysteries together. And the fact that she's an animal lover is definitely another plus.
Ms. Firebaugh has a unique writing style which makes the story come alive for the reader. There is romance involved in the story but it doesn't detract from the mystery. I look forward to more books in this series.
**I received a copy of this book in exchange for an honest review. All thoughts and opinions are entirely my own.**
Rating: Four stars
About the author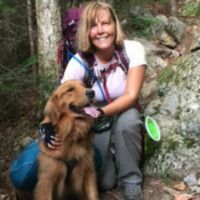 Jane Firebaugh was born and raised in eastern Tennessee.
She's had numerous interests in life, from antique collecting to jewelry design.
When she isn't in front of her computer writing, Jane can usually be found hiking with her dogs in the White Mountains of New Hampshire during temperate weather seasons, skiing there during cold ones or occasionally melting in the Florida sun.