Death in Advertising (A Tobi Tobias Mystery)
1st in Series
Cozy Mystery
Publisher: Lyrical Underground (February 7, 2017)
Approximately 300 PAGES
ASIN: B01FBZXSFW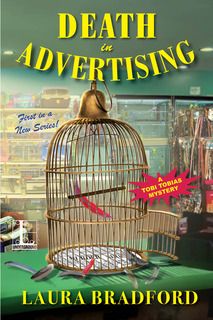 Synopsis:
When Tobi Tobias decided to open her own ad agency, having to moonlight in a pet shop wasn't part of her vision . . . of course, neither was murder.
Sometimes when opportunity knocks, the door you open leads to a closet. That's certainly the case for Tobi, whose weekends spent cleaning cages in her best friend's pet shop may soon be over. She's just landed her first big break—Zander Closet Company needs a catchy campaign slogan ASAP, and Tobi thinks she's got the right hook to knock 'em dead: "When we're done, even your skeletons will have a place."
But when a real dead body topples out of a showcase closet, she's about to discover there
is
such a thing as bad publicity. To save her fledgling business and not get killed by the competition, Tobi takes on a new pet project: solving the murder. But with a stressed-out parrot as the only witness to the crime, Tobi will really have to wing it to put the cagey killer behind bars.
Review: I have read other books by this author and enjoyed them immensely, so I was thrilled to hear that she was beginning a new series, and jumped at the chance to read it. I was not disappointed...in fact, I think this is now my favorite of the many series she has written.
The main character, Tobi Tobias, is quirky and fun. She worries about the snort in her laugh, has a minor addiction to Cocoa Puffs and eats at McDonald's--definitely things I can relate to (especially if you substitute Lucky Charms for Cocoa Puffs!). She runs an advertising agency, but is having some trouble getting it off the ground, so she works part-time at a friend's pet shop to help make ends meet. Oh, and because of her name, people who don't know her are generalHly expecting to meet a man, not a woman.
Her circle of friends is full of quirky and relatable characters as well. I love her interactions with her neighbors Carter and Miss Rapple and was impressed with the friendship she has with Sam, the teen photographer. Grandpa Stu is also a real hoot, and I hope we'll see more of him in the future.
The plot of the story is fast paced and well developed. I enjoyed the budding romance--and had a suspicion midway through the book who the mystery man from the pet shop was going to be. The murder mystery was not quite so easy to figure out, however...I went in a couple of wrong directions prior to the reveal.
**I received an ARC of this book with no expectation of a positive review. All thoughts and opinions are entirely my own.**
Rating:
Four stars
About the author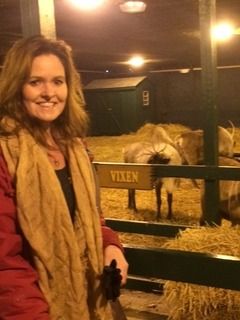 While spending a rainy afternoon at a friend's house more than thirty years ago, Laura Bradford (a.k.a. Elizabeth Lynn Casey) fell in love with writing over a stack of blank paper, a box of crayons, and a freshly sharpened number two pencil. From that moment forward, she never wanted to do anything else.
Today, Laura is the national bestselling author of the Amish Mysteries, the Jenkins & Burns Mysteries, and the Southern Sewing Circle Mysteries (written as Elizabeth Lynn Casey). A new cozy mystery series will be added to the mix in 2016 with the release of The Emergency Dessert Squad Mysteries. Laura is a former Agatha nominee and the recipient of an RT Reviewer's Choice Award in romance. In her free time, Laura enjoys making memories with her family, traveling, baking, and visiting the sea lions at the Central Park Zoo. For more information and all the latest book news, visit her website at www.laurabradford.com.
Twitter: @bradfordauthor
a Rafflecopter giveaway