Age Range:

4 - 8 years

Grade Level:

Preschool - 3

Hardcover:

144 pages

Publisher:

Zonderkidz (March 7, 2017)

Language:

English

ISBN-10:

0310757924

ISBN-13:

978-0310757924

Available at Sam's Club or wherever books are sold.
The Bible is not a fairy tale, but every great story happened "once upon a time." The Once Upon a Time Storybook Bible highlights powerful and inspiring stories from the Bible, beautifully illustrated with fantastical artwork by Omar Aranda. Stories include: Ruth, Abigail, Esther, The Parable of the Lost Sheep, The Prodigal Son, Mary Magdalene, and many more. Each captivating story is told in a way that will get children excited about reading the tales of real heroes of the Bible.
Review: This is a great way for children to begin to learn stories from the Bible. It contains 18 stories from the Old Testament and 15 stories from the New Testament. Each story is 4 pages long, with beautiful artwork on each page. Each story ends with a short "Happily Ever After" comment, which includes the Scripture reference and reinforces a lesson to be learned from the story.
The cover of this book is very sturdy and durable, which is good for "little people."
Although the recommended age range for this book is 4 to 8, I believe that it is never too early to begin sharing Bible stories with children. I intend to pass this book on to my 18 month old granddaughter so that her mother can read it to her until she can read it on her own.
Rating: Five stars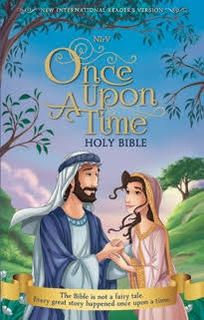 Age Range:

6 - 10 years

Grade Level:

1 - 5

Hardcover:

1152 pages

Publisher:

Zonderkidz (March 7, 2017)

Language:

English

ISBN-10:

0310757908

ISBN-13:

978-0310757900

Available where books are sold
The Bible is not a fairy tale, but every great story happened once upon a time. The
NIrV Once Upon a Time Holy Bible
contains a presentation page and also highlights six great stories from the Bible on 24 full-color inserts. Each story is told on four pages in full-color, illustrated splendor. Also contains the complete New International Reader's Version (NIrV) of the Bible.
Stories include:
God Makes Man and Woman
Isaac and Rebekah
Ruth Finds Happiness
Queen Esther
Mary and Joseph and an Angel
He Lives!
We all have our own tale to live and what better place to look for help and encouragement than the greatest story of all.
Review: A beautifully illustrated version of the Bible for slightly older readers than those of the storybook. It contains six short story inserts, each four pages long with full color illustrations.
The NIrV version of the Bible is adapted for early readers, giving them fewer unfamiliar words to struggle over as they begin to explore the Scriptures for themselves. In the back of the Bible, readers will find a small dictionary of words and terms the reader may not know as they are reading. Following that is an index of "great Bible stories" young readers can look into on their own.
This Bible also has a sturdy, durable cover so that it can survive the treatment of children in the target age group.
I love this Bible's tagline: The Bible is not a fairy tale. Every great story happened once upon a time.
Rating: Five stars
**I received copies of these Bibles from the publisher and FlyBy Promotions with no expectation of a positive review. All thoughts and opinions are entirely my own.**
Official Website:
With the popularity of fairy tales and Disney animation, and especially with the new release of Disney's live action Beauty and the Beast on March 17, Zonderkidz wanted to publish a storybook Bible and full -text Bible (Holy Bible offered in hardcover, and pink leathersoft editions) that would resonate with children and families who loved those types of movies, and loved reading a great story.

The art will captivate Disney lovers with similar looking characters and color palettes

Zonderkidz wanted to capture fans of this genre, but introduce young children to the word of God, and introduce them to the great characters of the Bible. It's important to note that this brand serves to resound the theme that the Bible is NOT a fairy tale, but every great Bible story happened once upon a time. The Bible is the ultimate Happily Ever After story!

What Christian parent doesn't want to tie in Bible learning fun with what their kids already love, but also have the opportunity to teach them that the real heroes and stories of our faith come straight from God's Word.