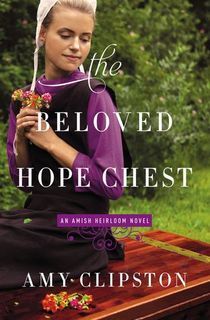 Genre: Amish fiction, Christian fiction, clean romance
Series:

An Amish Heirloom Novel

Paperback:

320 pages

Publisher:

Zondervan (May 9, 2017)

Language:

English

ISBN-10:

0310341973

ISBN-13:

978-0310341970
Synopsis:
In the final installment of the Amish Heirloom series, the Fisher sisters learn the mystery behind their parents' marriage—and about the sibling who has never been spoken of.
Mattie Fisher's three daughters know that she's been keeping a secret from them. With each item pulled from the beloved family hope chest, they've discovered a new clue about their mother's past.
But there's a reason Mattie has been keeping her history hidden, and she's not sure she's ready to reopen old wounds. Will dredging up the past change the way her children view her? Or her marriage to their father? And can she handle the pain of revisiting the memories that preceded the last few happy decades?
Mattie's story is one of grief and learning to love again. But like the best things preserved in a hope chest, it's a story of love and redemption born out of heartache—and it's past time to share it.
Review:
This is a wonderful wrap-up to this series. I've been curious about Mattie's story since we started getting clues about it in the other books. Reading what she and Leroy went through at the beginning of their marriage, and the journey to make things right, is very emotional--so make sure you have your tissues handy as you read.
I have to admit to getting frustrated with Mattie's actions more than once, but her grieving is just that, her grieving....we all handle it differently, and we can't know how we would react to losing not just one, but two people who meant the world to us in such a short time.
Leroy is strong, loving and compassionate, and he goes beyond the call of duty with his attempts to reach Mattie's heart through her grief and depression.
This book, and this entire series, reinforces my love of Amy Clipston's writing.
Rating: Five stars