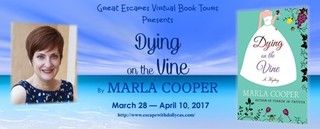 Dying on the Vine: A Mystery (Kelsey McKenna Destination Wedding Mysteries)
Series: Kelsey McKenna Destination Wedding Mysteries (Book 2)
Cozy Mystery
Publisher: Minotaur Books (April 4, 2017)
Hardcover: 304 pages
ISBN-13: 978-1250072559
E-Book ASIN: B01L7BD9VM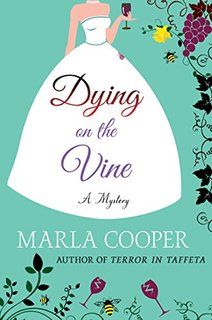 Synopsis:
Wedding planner Kelsey McKenna just signed on to a dream gig. She's going to be the "day-of" coordinator at the beautiful Higgens Estate in California wine country. There's only one problem: the wedding was originally planned by Babs Norton, the self-proclaimed Queen of Wine Country Weddings, who the father of the bride has fired.
Kelsey decides to clear the air with Babs and make sure there are no hard feelings, but before she can throw herself into executing the perfect wedding, she discovers Babs dead on the floor of his office. David, Babs' assistant is quick to point the finger very publicly at Kelsey. Even worse, Kelsey learns that with the big day only weeks away, the bitter little man has sabotaged her new clients' wedding by canceling all the vendor contracts.
With the help of her friend Brody and assistant Laurel, Kelsey must scramble to salvage the wedding while dodging gossipy wedding planners, grumpy winemakers, and a cold-blooded killer in this smart, funny cozy.
Review: Second in a fun cozy mystery series. I fell in love with Kelsey and Lauren in the first book, and am more excited about them after reading this story. There are several plots going on throughout, but they all work together and wind up tied up neatly by the end.
Kelsey has a blossoming relationship, and I look forward to seeing it grow in future stories.
This is a quick easy read, and the wine country setting was great fun to read about.
**I received a copy of this book with no expectation of a positive review. All thoughts and opinions are entirely my own.**
Rating: Four stars
About the author
As a freelance writer, MARLA COOPER has written all sorts of things, from advertising copy to travel guidebooks to the occasional haiku. But it was while ghostwriting a nonfiction guide to destination weddings that she found inspiration for her current series starring destination wedding planner Kelsey McKenna. Originally hailing from Texas, Marla lives in Oakland, California, with her husband and her polydactyl tuxedo cat.
a Rafflecopter giveaway