Series:

Madison Night Mystery (Book 4)

Print Length:

264 pages

Publisher:

Henery Press (April 18, 2017)

Language:

English

ISBN-10:

1635111986

ISBN-13:

978-1635111989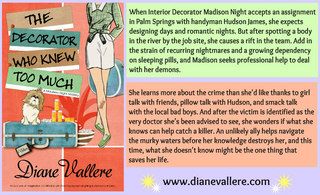 Review: I'm a HUGE fan of this author and can't believe I haven't read this series yet! Madison Night is a wonderful main character....she is an interior decorator who specializes in mid-century modern decorating, and consistently dresses the part, wearing clothes made from Butterick patterns of the fifties and channeling her inner Doris Day.
This time around, Madison is on a "vacation" in Palm Springs with Hudson, where they are helping his brother-in-law with a construction/decorating project. When she finds a dead body in the river, the focus of her time switches to solving the murder, especially when she discovers several people she knows had a connection to the victim.
There is action all through the story, as well as several plot twists to keep the reader guessing. When the killer is finally revealed, it is a complete surprise....but at the same time, the motive is totally believable.
I can hardly wait to read more of Madison's adventures!!

Rating: Four stars
Links:
About the author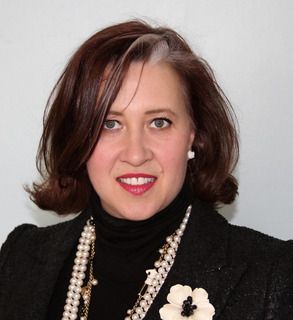 Diane Vallere is a former fashion buyer turned mystery writer, trading fashion accessories for accessories to murder. She is president of Sisters in Crime and writes the Samantha Kidd, Madison Night, Costume Shop, and Lefty-Award Nominated Material Witness Mysteries. She started her own detective agency at age ten and has maintained a passion for shoes, clues, and clothes ever since.