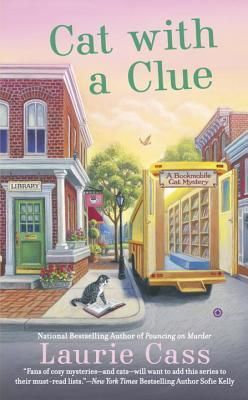 Synopsis:
Early one morning while shelving books in the library, Minnie stumbles upon a dead body. Authorities identify the woman as an out-of-towner visiting Chilson for her great-aunt's funeral. What she was doing in the library after hours is anyone's guess . . . but Minnie and Eddie are determined to save the library's reputation and catch a killer.
As rumors about the victim circulate through Chilson, the police are in a bind over a streak of baffling break-ins. Luckily, Minnie and Eddie are traveling the county in their bookmobile, and they'll stop at nothing to find the spineless killer before the final page is turned on someone else.
Review: I am a big fan of this author and of this series. Cozy mysteries in which cats play a large role are a huge favorite of mine, and this one is very well-written.
This time around, Minnie and Eddie are involved in solving a murder which takes place right in the library, as well as a string of break-ins around town. Ms. Cass keeps the reader guessing right up to the final reveal as to the identity of the killer, and keeps building the suspense all the way through the story.
I love to see the human characters growing and developing as the series continues, and to see Eddie continue to be the same sassy fellow he has always been.
I was saddened to learn that the real-life Eddie passed away on March 18, 2016. Having lost my own furbabies in the past, my heart goes out to Ms. Cass and her family on their loss.

**I received a copy of this book in exchange for an honest review. All thoughts and opinions are entirely my own.**
Rating: Four stars