This thrilling debut novel takes you inside the picture-perfect marriage – successful husband, doting wife…but dark secrets lurk just behind the iron gate of their perfect home.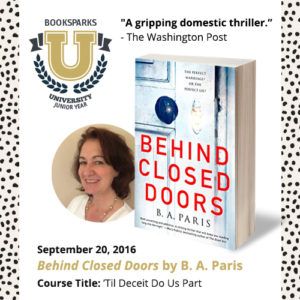 Course Title: 'Til Deceit Do Us Part
Department: Psychological Thrillers
Course Date: September 20
Description:
Everyone knows a couple like Jack and Grace.
He has looks and wealth, she has charm and elegance. You might not want to like them, but you do. Though, you'd like to get to know Grace better.
But it's difficult because you realize Jack and Grace are never apart.
Some might call this true love. Others might ask why Grace never answers the phone. Or how she can never meet for coffee, even though she doesn't work. How she can cook such elaborate meals but remain so slim. And why there are bars on one of the bedroom windows.
Sometimes, the perfect marriage is the perfect lie.
Review: I absolutely LOVED this book! Almost from the first page, I suspected something was "off" in the relationship between Grace and Jack, but I never would have expected to learn the things I did about them. By the time I was a third of the way in, I knew that I was never going to like Jack at all, and was hoping there would be a positive end to the story somehow.

The plot of this story is very fast-paced and will keep you engaged from beginning to end. The story alternates between the past and the present, but the time switches are very clearly marked, and the story is easy to follow.

Grace and her sister Millie, who has Down's Syndrome, are very likable characters, and you will find yourself rooting for them throughout the book. Jack is originally likable, but as you get to know who/what he really is, it is difficult to find anything about him to like at all.

This is the most edge of your seat page turner I've read this year. If you enjoy suspenseful psychological thrillers, you should definitely pick up this book!!

**I received a copy of this book in exchange for an honest review. All thoughts and opinions are entirely my own.**
Rating: Five stars
About the author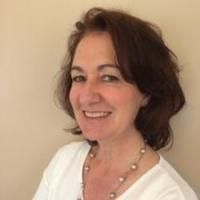 B. A. Paris is from a Franco/Irish background. She was brought up in England and worked in London for three years before moving to Paris, where worked in corporate banking and as a trader in an international bank. After the birth of her first daughter, she became a stay-at-home mother and went on to have another three daughters. She spent four years in the Netherlands, where her fifth daughter was born. Returning to France, she decided to re-train as an English teacher and worked for some years in an international school and then at the Université de Marne la Vallée, teaching English to Architecture students. In 2009 she set up a language school with her husband and now teaches Business English in Paris.