Genre:

Christian Fiction

Paperback:

288 pages

Publisher:

Worthy Publishing (September 6, 2016)

Language:

English

ISBN-10:

1617957305

ISBN-13:

978-1617957307
Synopsis: The powerfully compelling novelization of the major motion picture by Joel and Luke Smallbone of the band for King & Country.
James Stevens was, at one time, a good man with a great life. After the tragic death of his wife and losing custody of his little girl, James is at the darkest crossroad of his life. Angry, desperate, and unable to hold down a steady job, he agrees to drive a box truck on a shady, one-time trip cross country for cash—no questions asked. When he discovers what he is delivering is actually a who, the questions in his mind begin haunting him mercilessly. James becomes an unlikely hero who must fight to save the lives of two young women and finds himself falling in love with one of them.
Can love, strength, and faith redefine his past and change the course of his future?
Review: This is a hard-hitting story with several realistic, horrifying themes. My heart broke for the young women and the disgusting things they were forced into just to survive. James had his own struggles and demons, and it was heartwarming to see him grow and mature as the story progressed.
The major theme of this story is how women should be valued by men. James shows us how that should be done, with the women he discovers in the truck as well as with the daughter with whom he is trying to rebuild a relationship.
I was quickly drawn into this story, and couldn't put it down once I started. I finished reading it in one day. I was just that anxious to find out how it was all going to play out! I am recommending this book to all my family and friends, and I am looking forward to seeing the movie as well.
**I received a copy of this book from Worthy Publishing in exchange for an honest review. All thoughts and opinions are entirely my own.**
Rating: Five stars
About the authors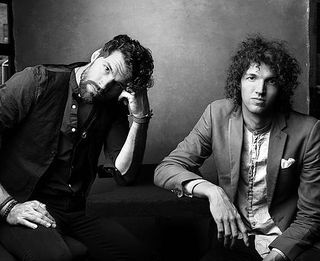 In 2012 JOEL and LUKE SMALLBONE founded for KING & COUNTRY and were named
Billboard's
New Artists to Watch. Since then, they've exceeded expectations with 750,000 albums sold, 100 million streams, sold-out shows, two GRAMMY Awards, six K-LOVE Fan Awards, and appearances on national shows such as
The View
,
Jimmy Kimmel Live!
,
The Tonight Show
,
Fox & Friends
, and others. The "Priceless Movement" has been part of the band since the beginning, reminding women of their worth and encouraging men to respect and honor women.