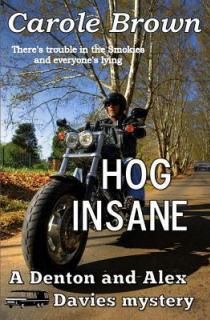 Synopsis:
Award winning fiction author, Carole Brown, offers mystery readers a new suspense driven cozy series featuring Denton and Alex Davies. Brown's writing is full of turns and twists. Her ability to build suspense has been likened to the early works of James Patterson.
With the Mountain Mist Campground at Pigeon Forge as their final destination, the Davies couple load up their RV and eagerly head for the Smokey Mountains.
Newly retired, Denton hopes to use this trip to rekindle the dwindling flame of his marriage. In spite of her protests, he is sure his wife looks forward to the rest and relaxation as much as he does.
They barely arrive at their destination when a risk-taking motorcyclist speeds past them, followed by a careening sports car. Reminding Denton of his nephew's fatal tangle ten years earlier. With the bike Denton taught him to ride.
Things continue to go south the rest of the evening, culminating when Denton finds a body sprawled in the brush beside the path to their cabin. A man's booted feet are toe down, as if they'd dug into the ground. And with biker gloves on his hands, indication is Denton may have seen this man earlier in the day.
Squatting beside him, Denton presses two fingers alongside the man's neck. No pulse. But Denton knew there wouldn't be. The bullet hole in the victim's head says it all. Denton has a job to do and a mystery to solve.
Thoughts:
**I received a copy of this book from the author in exchange for an honest review.**
Although this book is very different from Carole Brown's first novel,
The Redemption of Caralynne Hayman
,it is equally well written. It is a light,easy read, and once I got into it, it was impossible to put down. The ending was like one of the mystery shows I used to watch on television, with all the suspects gathered in one place while Denton revealed the facts of the case, and the culprit.
The main characters, a pair of retirees, are very well written and believable. The supporting characters are all interesting people that you can care about. The plot kept me guessing--and my only complaint was that, even with the reveal, it wasn't totally clear who the actual murderer had been. It was only one rather throw away sentence which provided that information.
All in all, not a bad first attempt at a cozy mystery, and I look forward to more adventures for Denton and Alex.
My rating: Four stars