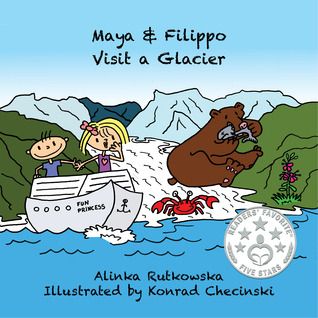 Synopsis:
Embark on an exciting adventure with Maya and Filippo as they travel around the globe on board the Fun Princess, a cruise ship full of surprises. Discover their fascinating ports of call, join them in activities at sea and explore the remarkable world they create for themselves through their thoughts and feelings.
The ship takes the kids to Juneau. Maya and Filippo see Mendenhall Glacier and learn about melting ice, bears, fish and flowers. They discover how feeling grateful brings wonderful things into their lives and they are in for a big surprise!
Thoughts:
**I was given a copy of this book by the author in exchange for an honest review.**
Maya, Filippo, their parents, and their cat Otello live on a cruise ship called the
Fun Princess
. This is the story of their trip to Alaska, and visit to a glacier.
Lots of good information provided in a fun way for young children. Every page has bright colorful illustrations to keep their attention as well. There is also a short quiz at the end of the book to promote comprehension, as well as some additional facts to encourage further learning.
Looking forward to reading this to my grandson next time he visits!
My rating: Four stars