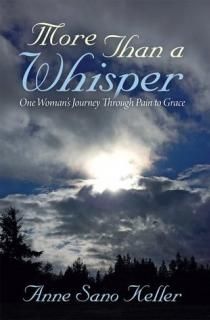 Synopsis:
More than a Whisper tells the intimate story of Anne Sano Keller's journey from the emptiness of being raised by parents who couldn't love her, to suffering a mother's greatest sorrow, and finally emerging into the fullness of grace. When her heart is shattered and she can no longer go on, the universe shows her its divine plan.
After giving up all hope of reconciliation, Anne receives a letter from her estranged father, who is dying of cancer. She finds herself embarking on a ten-year journey into a world of surrender and forgiveness. As she tries to maintain her normal life, she finds herself living with one foot in this world and one foot in the spirit world.
More than a Whisper started as a private journal meant only for her children to read someday. It became a book when Anne received "more than a whisper" from her spirit guide and departed loved ones, urging her to tell her story, with the hope that others might take from it the courage to face life's greatest challenges and ask, "What is this here to teach me?"
Thoughts:
**I received a copy of this book from the author in exchange for an honest review.**
This book resonated with me from the very beginning. I also spent years trying to make myself into someone my parents could love, and finally started to just be ME in my forties. I had to let go of one relationship,but the other has grown stronger and deeper over the last few years.
The author of this book had a lot of tragedy in her life in a very short time, but she got through it all with a belief in a higher power and an afterlife. She shows how we can all become open to recognize daily miracles, signs from our lost loved ones, and visits from angels.
At the end of her story, the author shares two different meditations which she had written about. I haven't tried either of them yet, but I have every intention of doing so very soon. There are also discussion questions included which would be good for a book club to use.
This was an inspiring story, and a very easy read.
My rating: Four stars