Publisher: Crooked Lane Books (November 15, 2016)
Hardcover: 304 pages
ISBN-13: 978-1629538426
E-Book ASIN: B01H082DOU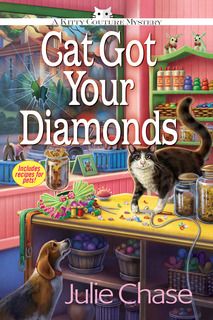 Synopsis:
Grandeur and opulence are everything in the famed New Orleans Garden District where pets are family and no bling is too big. Opening Furry Godmother, pet boutique and organic treat bakery, is Lacy Marie Crocker's dream come true–until the glitter gun used to make her Shih Tzu tutus becomes a murder weapon. And Lacy becomes public enemy #1.
Now Detective Jack Oliver is hounding Lacy, and her Furry Godmother investor wants out before his name is tarnished by association. To make matters worse, a string of jewel heists with suspicious ties to the murder case has New Orleans residents on edge. To save her dream, Lacy must take a stand, put her keen eyes to work, and unravel what really happened at her shop that night. But can Lacy sniff out the killer cat burglar in time to get her tail-raising designs on the catwalk?
Review: What's not to love about this story? You get the fabulous setting of New Orleans, with all its culture and history, plus a main character who runs a pet boutique and bakery. Then you get a murder mystery on top of that.
I knew just from the title and the cover that I had to read this book, and once I read the synopsis I could hardly wait to dive into the story. I was most definitely not disappointed by what I found. Lacy is a great character, and someone I'd enjoy having as a friend in real life. Several of the supporting characters are also fun and charming.
The plot is very well developed and keeps you guessing. Even though we know Lacy couldn't possibly be the killer, figuring out who is will be no easy task for readers. I for one am looking forward to another visit to New Orleans and Furry Godmother very soon.
**I received an advanced reader copy of this book from NetGalley and Great Escapes Virtual Book Tours with no expectation of a positive review. All thoughts and opinions are entirely my own.**
Rating: Five stars
"In all that New Orleans heat and glitter, there's a wolf in sheep's clothing. A fun read."
—Rita Mae Brown, New York Times bestselling author of the Sneaky Pie mystery series
"Everyone needs a Furry Godmother! A delightful new series steeped in the flavor of New Orleans and its old families. Julie Chase's clever characters are guaranteed to make you smile."
—Krista Davis, New York Times bestselling author of the Paws & Claws mysteries
"A stunning debut… Julie Chase's new series is a cross between Laura Childs' Scrapbooking series and Ali Brandon's Black Cat Bookshop. A fantastic start to what looks like a promising cozy series. Even if you are not a cat/dog lover, you will love this one!"
—T. C. LoTempio, author of the national bestselling Nick and Nora mystery series.
About The Author
Julie Chase is a mystery-loving pet enthusiast who hopes to make readers smile. She lives in rural Ohio with her husband and three small children. Julie is a member of the International Thriller Writers (ITW) and Sisters in Crime (SinC). She is represented by Jill Marsal of Marsal Lyons Literary Agency. Julie also writes as Julie Anne Lindsey.
Purchase Links:
a Rafflecopter giveaway