New Cozy Series
File Size: 6124 KB
Print Length: 257 pages
Publisher: Alibi (August 16, 2016)
ASIN: B01A4ATX58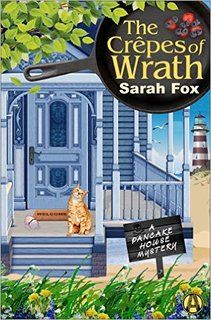 Synopsis:
In the debut of a delightful cozy mystery series, Sarah Fox introduces a charming new heroine who finds herself in a sticky situation: stacking pancakes, pouring coffee, and investigating murder.
When Marley McKinney's aging cousin, Jimmy, is hospitalized with pneumonia, she agrees to help run his pancake house while he recovers. With its rustic interior and syrupy scent, the Flip Side Pancake House is just as she pictured it—and the surly chef is a wizard with crêpes. Marley expects to spend a leisurely week or two in Wildwood Cove, the quaint, coastal community where she used to spend her summers, but then Cousin Jimmy is found murdered, sprawled on the rocks beneath a nearby cliff.
After she stumbles across evidence of stolen goods in Jimmy's workshop, Marley is determined to find out what's really going on in the not-so-quiet town of Wildwood Cove. With help from her childhood crush and her adopted cat, Flapjack, Marley sinks her teeth into the investigation. But if she's not careful, she's going to get burned by a killer who's only interested in serving up trouble.
Review: A wonderful introduction to a brand new cozy mystery series. Marley and the other main characters are fully introduced to readers so that we can feel as if we really get to know them through the course of this story.
I love that even though Marley is something of an outsider in Wildwood Cove, she is drawn into a tight circle of friends and co-workers almost immediately, and even more so after Jimmy dies. She wants to solve the murder and get back to her life in Seattle, but the longer she stays in town, the more torn she is about leaving. You'll definitely find yourself having an opinion on what she should do with her life. :)
Along with the fun characters and the quaint location, there is plenty of humor to go along with the mystery. I look forward to spending more time at the pancake house and in Wildwood Cove in the future.
**I received a copy of this book in exchange for an honest review. All thoughts and opinions are entirely my own.**
Rating: Four stars
Sarah Fox

was born and raised in Vancouver, British Columbia, where she developed a love for mysteries at a young age. When not writing novels or working as a legal writer, she is often reading her way through a stack of books or spending time outdoors with her English Springer Spaniel.