Key to a Murder: An Antique Hunters Mystery
4th in Series
Cozy Cat Press (August 12, 2016)
Print Length: 176 pages
ASIN: B01KD97TK6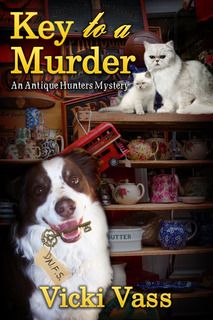 Synopsis:
A mysterious woman appears on the doorstep of Great Aunt Sybil's Attic in the middle of the night. Owner Anne Hillstrom lets her in, only to have the woman die in her arms. With no final words and only an old lantern clutched to her chest, the dead woman provides Anne and her partner CC precious few clues to discover her murderer or why she spent her last moments in their antique store. The two Antique Hunters search for clues, finding themselves entangled in a centuries-old mystery leading them to a cemetery in Ireland where a ghost from the past has left them a cryptic message, and a killer has left them no choice but to discover his identity before he kills again. On their journey, the two best friends encounter antiques, romance and the key to a murder.
Review: This is the fourth book in this series, but only the second one I have read. However, that fact does not deter from the ability to enjoy this book, as there are not an over-abundance to references to past books.
The friendship between Anne and CC is one of my favorite parts of this series. They have a great relationship and it is very realistically written and developed. Anne is constantly making silly decisions that get her into trouble, but she's so sweet and quirky that you can't help but love her.
The story is filled with mystery, adventure and humor. If you love antiques with great history and/or cozy mysteries, this book is for you.
**I received a copy of this book through Great Escapes Book Tours, with no expectation of a favorable review. All thoughts and opinions are entirely my own.**
Rating: Four stars
About the author
With a passion for shopping and antiques, Vicki Vass turned in her reporter's notebook to chronicle the adventures of Anne and CC, two antique hunters who use their skills to solve a murder case.
Vicki has written more than 1,400 stories for the Chicago Tribune as well as other commercial publications including Home & Away, the Lutheran and Woman's World. Her science fiction novel, The Lexicon, draws on her experience in Sudan while writing about the ongoing civil war for World Relief.
She lives in the Chicago area with her husband, writer and musician Brian Tedeschi, son Tony, Australian shepherd Bandit, kittens Terra and Pixel, seven koi and Gary the turtle.
a Rafflecopter giveaway