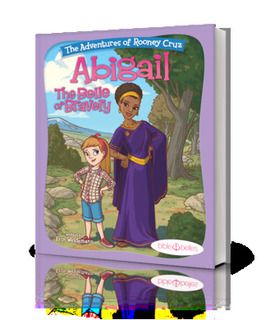 Series:

The Adventures of Rooney Cruz

Hardcover:

49 pages

Publisher:

Bible Belles (November 10, 2016)

Language:

English

ISBN-10:

0996168931

ISBN-13:

978-0996168939
Synopsis: The adventure continues in Book Three of the Bible Belles series, as Rooney faces her biggest challenge yet. With the help of her angel Mari, Rooney has learned that she has two real superpowers: prayer and patience. After a tough afternoon with her brother and some neighborhood kids, Rooney is faced with a difficult choice: can she be brave enough to do the right thing? Through the story of Abigail, Rooney learns that she can call upon the courage of God to boldly face any problem with the confidence that He will see her through it. Join Rooney and Mari on another exciting adventure to becoming the best kind of superhero—a Bible Belle!
Review:
This is the third book in this series, following up Hannah and Estther--and it will be followed by books about Ruth and Deborah. The books not only tell the story of the Biblical woman, they also show how their particular quality applies in the life of a modern young girl, Rooney Cruz. I enjoyed the fact Rooney has her guardian angel, Mari, to teach her about the Biblical heroines.
The illustrations are beautiful, the story is perfectly written for an elementary school girl, and it is just the right length to keep from losing a child's interest. If you have a young girl in your life, I highly recommend introducing her to The Bible Belles!
**I received an Advanced Readers Copy of this book with no expectation of a positive review . All thoughts and opinions are entirely my own.**
Rating: Five stars
Q&A with Erin Weidemann
Why did you create Bible Belles?
As a teacher and sports coach for the past several years, I've watched many girls struggle with insecurity, comparison, and trying to measure up to the world's standard of beauty. Girls are bombarded by media, by each other, by negative influences telling them what they need to be to be beautiful. It's time to do something about it. Our girls need real heroes, and parents need a weapon to battle back against all the noise. We created Bible Belles to help the next generation of girls connect to the female heroes of the Bible, to celebrate women whose inner beauty God used for a mighty purpose. The word "belle" means "beautiful", and our mission is to highlight women who exhibited qualities like prayer, patience, bravery, loyalty, and leadership so that our girls can grow their character and become the beautiful heroes that God created them to be.
The first series is called The Adventures of Rooney Cruz. Tell us about the main character. Rooney Cruz is a regular, nine­year­old girl who is struggling through the problems that girls face today: friendships, intimidation, lack of confidence, misunderstanding her own worth, comparing herself to other girls and more. She is the link between the biblical story and the modern application. In each book, she faces a modern day problem, and she gets the opportunity to look in on the story of a Belle who is experiencing a similar problem. She sees that each Belle has been gifted with a superpower: a special ability that allows her to positively approach the problem she faces. As she journeys through the series, Rooney comes to realize that, just like the Bible Belles, she is a true hero who possesses each of the spiritual "superpowers" that these women possessed. She will use them in her own life as she accepts and begins to serve the unique purpose that God laid out for her.
Tell us about Abigail and why you chose her for the series?
In the first book, Hannah, our focus was on prayer and how real and honest communication is the first step in developing a meaningful relationship with God. Esther is the second Belle in the series and she represents taking the next step: properly preparing for God to speak into our lives and then taking action according to His timing, not our own. It's inevitable that once a relationship is established, it will face conflict. After Hannah and Esther comes Abigail. After her husband is rude and disrespectful to David and his soldiers, Abigail faces a dangerous and difficult choice. It would have been very easy for her to ignore the problem or be too scared to do anything about it. Instead, Abigail remembers that God was with her. She thinks about how to protect her family and show David and his men love and kindness at the same time. She considers everyone involved in the problem, and she chooses to solve it with a warm heart and solid thinking. Our hope is that, through the story of Abigail, our girls would feel confident and excited to make good choices, no matter what challenges they face.
Why is bravery such an important quality?
We want our girls to feel strong and excited to make good choices. We want them to boldly confront the challenges they face, and trusting God is the key. When they find themselves in scary or uncomfortable situations, or when they feel like they're alone in the dark, they need to hold onto the truth: God is with them, and He can make them brave. The world will tell them they don't have to stand up, that it's okay to give in, to do what's easy, to let fear stop their action. The right choice is often the most difficult one, and it's time to raise up a generation of girls who are not afraid to do what's right (or who are afraid and will do it anyway!). They will make A Different Kind Of Noise because they know and trust the Lord. Bravery isn't about overcoming our fears alone. It's about remembering how strong and powerful God is. When we remember that, we realize that there is absolutely nothing to fear.
About the author
Erin Weidemann is a teacher turned professional author. A former college athlete, Erin is also a five­time cancer survivor. She lives in Encinitas, California with her husband Brent and their daughter Rooney. Alongside her husband, she is the co­founder of Bible Belles, an organization committed to inspiring girls to discover real beauty through the female heroes of the Bible. Erin is also the host of the award­winning Heroes For Her podcast, available on iTunes.