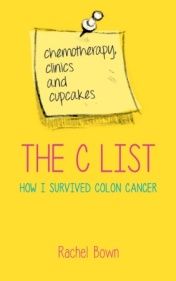 Synopsis: "This is not a 'misery memoir'. Neither is it an, 'I've got cancer and it's the best thing that's ever happened to me' book. It is about the daft and sometimes funny things that happen to people living with cancer and useful tips for making the best of it."
Rachel Bown is a marketing director and single mother of two, who was diagnosed with advanced colon cancer at the age of 45. With a taboo-breaking sense of humor, Rachel shares her experiences and the lists she made to help gain some control over what quickly became an unpredictable life. Both funny and poignant, she vividly describes her battle with cancer and the often absurd situations she finds herself in—from a brutally flippant surgeon to her latest fashion accessory, a colostomy bag, to embarking on a project to build a 40ft-banana giraffe on the roof of her house.
Colon cancer is the second-biggest cancer killer in the US, but there is still a shockinging low level of public awareness about it. Rachel offers you all the nuggets of information she picked up from hundreds of sources along the way, including questions you should ask your surgeon, the best treats whilst on chemo, things to look out for in a blood test, and how not to react when someone tells you they have cancer.
Thoughts:
A very touching and yet humorous story of the journey through colon cancer. Much of what she writes is also applicable to any other form of cancer and its treatment. As a breast cancer survivor, a lot of what she writes rang true to my experiences. I will definitely be recommending this book to others, and sharing my copy with friends/family members.
DISCLOSURE: I was given a copy of this book by the publisher in return for an honest review, and all thoughts expressed here are entirely my own.