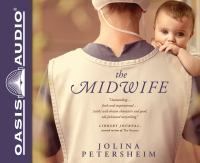 Synopsis: The Past
— Graduate student Beth Winslow was sure she was ready to navigate the challenges of becoming a surrogate. But when early tests indicate possible abnormalities with the baby, Beth is unprepared for the parents' decision to end the pregnancy — and for the fierce love she feels for this unborn child. Desperate, she flees the city and seeks refuge at Hopen Haus, a home for unwed mothers deep in a Tennessee Mennonite community.
The Present
— As head midwife of Hopen Haus, Rhoda Mummau delivers babies with a confident though stoic ease. Except in rare moments, not even those who work alongside her would guess that each newborn cry, each starry-eyed glance from mother to child, nearly renders a fault through Rhoda's heart, reminding her of a past she has carefully concealed.
Past and present collide when a young woman named Amelia arrives in the sweeping countryside bearing secrets of her own. As Amelia's due date draws near, Rhoda must face her regrets and those she left behind in order for the healing power of love and forgiveness to set them all free.
Thoughts:
A fabulous story! So many twists and turns in the relationships between the characters...one very near the end that I hadn't seen coming brought tears to my eyes. All of the emotions in this story touched my heart. Can't wait for more from this author.