Series:

Zoe Donovan Mystery

Paperback:

224 pages

Publisher:

CreateSpace Independent Publishing Platform (January 6, 2017)

Language:

English

ISBN-10:

1540302253

ISBN-13:

978-1540302250
Synopsis:
In this snowy cozy mystery, Zak's is asked to track down the source of the breach for the surveillance system at a remote ski resort in the Canadian Rockies. Scooter is away with his dad leaving Zoe feeling depressed and deflated so Zak asks Zoe to go along on the trip. With Levi and Ellie away as well, Zoe decides to join Zak only to find that the sleuthing couple has really been invited to the resort to solve a murder. Join Zak, Zoe, Alex, and Charlie as they juggle fun-filled days on the slopes with theory building sessions as they attempt to track down a killer.
Review:
Another great adventure for Zoe, Zak and Alex--along with Charlie. They travel to the Canadian Rockies for a ski holiday before Christmas, and to help solve a murder.
I love the detail Kathi goes into about the resort and its decorations for the holiday. The village sounds like a great place to visit, for sure.
Once again, Kathi keeps us guessing with the murder mystery until the very end, and then wraps it all up in a very believable manner. Looking forward to finding out how Levi and Ellie's relationship grows and evolves, especially after the baby arrives. Also hoping that Zoe and Zak's family will be growing soon!!
Rating: Five stars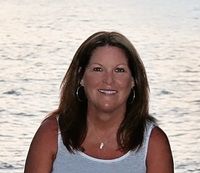 Author of the Zoe Donovan cozy Mystery Series, Tj Jensen Paradise Lake Mystery series, Whales and Tails Cozy Mystery Series, Sand and Sea Hawaiian Mysteries, and Seacliff High Teen Cozy Mystery Series.
Come for the murder, stay for the romance.
Kathi lives in the beautiful alpine community of Lake Tahoe with her husband Ken and dog Echo. When she's not writing she enjoys hanging out on the beach with her children and grandchildren. During the summer she enjoys hiking, kayaking, mountain biking, wakeboarding, and sunset cruises on the lake. During the winter she enjoys cross country skiing, snowshoeing, and curling up by a fire with a good book.
Kathi uses her mountain home as inspiration for her books, all which include appearances by the wildlife she shares her life with.
Visit Kathi Daley:
Blog - http://kathidaleyblog.com
Facebook at Kathi Daley Books, www.facebook.com/kathidaleybooks
Kathi Daley Teen - www.facebook.com/kathidaleyteen
Kathi Daley Books Group Page - https://www.facebook.com/groups/569578823146850/
Kathi Daley Books Birthday Club- get a book on your birthday - https://www.facebook.com/groups/1040638412628912/
Kathi Daley Recipe Exchange - https://www.facebook.com/groups/752806778126428/
Webpage - www.kathidaley.com
E-mail - kathidaley@kathidaley.com
Recipe Submission E-mail - kathidaleyrecipes@kathidaley.com
Goodreads: https://www.goodreads.com/author/show/7278377.Kathi_Daley
Twitter at Kathi Daley@kathidaley - https://twitter.com/kathidaley
Tumblr - http://kathidaleybooks.tumblr.com/
Pinterest - http://www.pinterest.com/kathidaley/
For weekly updates and contests sign up for her newsletter The Daley Weekly at (http://eepurl.com/NRPDf)or by accessing the link on her Facebook page or website.