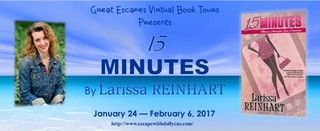 15 Minutes: A Maizie Albright Star Detective Humorous Mystery
Cozy Mystery
1st in Series
Publisher: Past Perfect Press (January 24, 2017)
Paperback: 341 pages
ISBN-13: 978-0997885323
E-Book ASIN: B01N77ZK94
Synopsis:
#10days #findthewoman #getthejob #doNOTfallinlove
When ex-teen star Maizie Albright returns to her Southern hometown of Black Pine, Georgia, she hoped to rid herself of Hollywood tabloid and reality show hell for a new career as a private investigator. Instead, Hollyweird follows her home. Maizie's costar crushing, but now for her gumshoe boss. Her stage-monster mother still demands screen time. Her latest rival wants her kicked off the set, preferably back to a California prison.
By entangling herself in a missing person's case, she must reprise her most famous role. The job will demand a performance of a lifetime. But this time, the stakes are real and may prove deadly.
Review: This new series is a great mix of Hollywood with Southern charm. Maizie is constantly getting herself into one predicament after another. She has to deal with people from her Hollywood life intruding on what she had hoped would be a quiet life in Georgia. And she has a HUGE addiction to donuts!

This story is totally unpredictable with lots of twists and turns. The big reveal of the killer was a major surprise that I never saw coming. Can't wait to see what the future holds for Maizie!
Rating: Four stars
About the author
A 2015 Georgia Author of the Year Best Mystery finalist, Larissa writes the Cherry Tucker Mystery and Maizie Albright Star Detective series. The first book in the Cherry Tucker series, Portrait of a Dead Guy, is a 2012 Daphne du Maurier finalist, 2012 The Emily finalist, and 2011 Dixie Kane Memorial winner. Her books have also been nominated for Georgia Author of the Year and the Silver Falchion Award. She loves books, food, and travel.
If you enjoy her books, please leave a review. She sends you virtual hugs and undying gratitude for your support!
a Rafflecopter giveaway