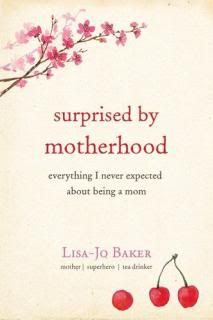 Synopsis: A lawyer with a well-stamped passport and a passion for human rights, Lisa-Jo Baker never wanted to be a mom. And then she had kids. Having lost her own mother to cancer as a teenager, Lisa-Jo felt lost on her journey to womanhood and wholly unprepared to raise children.
Surprised by Motherhood
is Lisa-Jo's story of becoming and being a mom, and in the process, discovering that all the "what to expect" and "how to" books in the world can never truly prepare you for the sheer exhilaration, joy, and terrifying love that accompanies motherhood.
Set partly in South Africa and partly in the US (with a slight detour to Ukraine along the way),
Surprised by Motherhood
is a poignant memoir of one woman's dawning realization that being a mom isn't about being perfect—it's about being present.
Thoughts: This is, without question, the best book on motherhood that I have ever read. I would recommend it to every mother, no matter the age of your children. I laughed, I cried, I shook my head in agreement as I remembered similar experiences in my motherhood journey....and through it all, I managed to hear the still small voice of God telling me that I did NOT fail as a mother, that I was the best mother I knew how to be and that the wonderful adults my children have become are proof of my success. The lessons this book holds were just what I needed to hear to FINALLY accept what people have been telling me for years---because this time, I heard it from HIM.
(Having listened to my library's audiobook version, I will now always hear Lisa-Jo's beautiful South African accent when I read her blog or Facebook posts!)